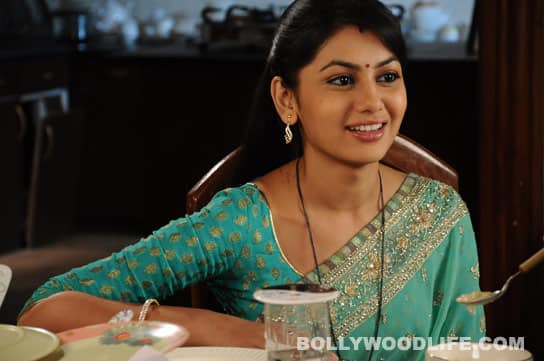 Sriti, who plays a victim of domestic violence on the show, has silver screen ambitions
Sriti Jha, who plays the female lead in Life Ok's new show Dil Se Di Dua…Saubhagyavati Bhava, is already thinking big. The actor has played strong characters in her earlier shows– she was a blind girl in Rakt Sambandh and a girl with split personality in Jyoti. With her latest portrayal of a victim of domestic violence in the daily soap, she has gained an even huger fan following, but she isn't stopping at that. Sriti wants to move to Bollywood! "Today, most of the (television) channels are targeting Indian women and that is why roles for actresses are more challenging and vast compared to male actors. Bollywood is definitely on my list, but I don't want to make a hurried decision. Let the right offer and right time come, I will happily grab it," she said.
Till that happens, she is content doing a show which exposes a crime that is usually not spoken about. Victims of domestic violence usually keep quiet about it for fear of being ostracised by their own family members. Sriti's character Jhanvi is one such woman. "This role is quite different from the ones I've done so far. It deals with bubbly girl Jhanvi's life that takes a different turn owing to the domestic rigors post marriage. I am glad I am doing such a challenging role and sometimes I feel proud to be the voice of all those women who are going through such a bad phase. I feel sad that in a country like India where goddesses are worshiped, women are treated so badly. It's actually a shame for the society," she added.
Sriti firmly believes that it is, "the responsibility of family, especially parents, to understand their daughter's feelings and motivate her to speak out." "Girls usually feel that talking or discussing can affect their family's reputation, but it needs to be stopped for the sake of their lives. Also, in the hope that world will change for her, they tolerate everything but don't forget that the world can change but not the person's behaviour. There are chances that things can get worse," she said.
ALSO READ: 'Saubhagyavati Bhava' star Karanvir Bohra is super busy | Urvashi Dholakia back as Komolika in 'Saubhagyavati Bhava'