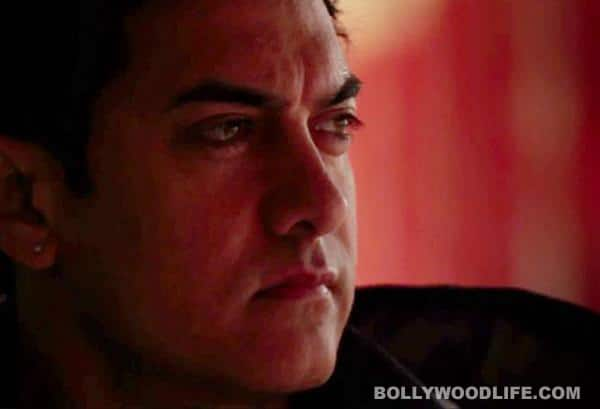 Hate him or like him, no one could ignore him. Just as the first episode of Aamir Khan's show Satyamev Jayate was being aired, the show's website crashed. Simultaneously, the TV show was top-trending on Twitter. Satyamev Jayate stories on Bollywoodlife received truckloads of passionate comments on the social issue discussed by Aamir. Some of the best ones were by people who do not like Aamir Khan in particular, but loved his show. Read on:
Sumeet posted at 10:25 AM on May 11, 2012:
"Aamir changed the meaning of word idiot…Now he has changed the idiot box…"
Kalpana posted at 4:33 AM on May 14, 2012:
"Dear Amir khan Ji,
We love watching your Satymev jaydev, Amazed with both the programs, horrible infanticide and sexual abuse…
Uncle and grand parents, how can they sexually abuse children? Your teaching children to speak up and shout and scream but what happens if the abusers are none other than the parents? One most important fact for children is to trust and treat fathers as body guard but must never forget that even fathers / mothers can be abusers, and if his happens they should approach another adult, teacher or sister or aunty but is he most difficult scenario for the abused child."
indu posted at 2:46 AM on May 14, 2012:
"Hi,
Today's Episode talks about Sexual Abuse. But i think it would be better if it would have been for street children. It is very mandatory for them to know all this stuff to be aware of people like this."
arun bhide posted at 11:57 AM on May 10, 2012:
"i appreciate your concern in the interest of strong ethical india.
there should be sufficient gap between two episodes and verification of impact is a must
we support yourworthwhile efforts"
banerjee posted at 12:08 AM on May 14, 2012:
"I am a father of one beautiful daughter of 3 years old. After watching Amir Khan's show my wife has become so paranoid that she started looking at the whole male community as pedophile, child abuser and rapist. She is scared if the little girl mingle with any male, include myself, uncle, grand father etc. She does not trust me or any male in the world. Amir, you also need to send the message that all males are not child abuser. There also exists healthy relation between father-child, grand father-child, uncle-child."
kalyani muley posted at 12:06 AM on May 14, 2012:
"Dear Amir Sir,
I am really very much thankful to you, You are doing the great job for nation . This is helping us lot to be aware of such important issues. Specially your second episode about child sexual abuse was really helpful for me,Me and my parents ,we all regularly watch your show on every Sunday.Those mothers who are not enough educated and are aware of this issues , They really don't know whats going on in outside world. They don't even discuss such problem's with their children and its really very difficult to make them understand such horrifying issues and your show is really working out and i think its correct path to guide them.
Another think i really wanted to mention is about your workshop, Excellent work ,very good idea given to children's,which really made them understand how to tackle such problems.
Sir, As you discussed about the program for child sexual abuse, I personally request you that you should conduct one episode on that what is the cause behind child sexual abuse ,why people are so harsh to children's, Why they think to do such nonsense things.
I, Am also thankful to those people,they had really done the great job and i really respect them for this. Its very hard to share such facts of their life,Live on the television and they are doing these for the sake of public so that our coming generation should not suffer.This is really awesome , and i salute them for this.
THREE CHEER'S FOR THEM!!!………….."
Sunita posted at 9:27 PM on May 9, 2012:
"What do you mean by knee-jerk reaction? Any action and positive step is better than no steps at all! It is nothing but amazing for a TV show to have made such impact! Hats off to Aamir Khan and team of Satyamev Jayate for pulling off the impossible!"
suman posted at 9:54 AM on May 14, 2012:
"Hats off to AAMIR SIR,
TOPIC DISCUSED WAS UNEXPECTED but very important and necessary to be discussed.
SIR I think all the schools must also do a workshop on this .
THANKS"
aksh posted at 10:34 PM on May 13, 2012:
"the scars of incidents like this haunts the victim for a ifetime… i told a mother once that pls don allow the ur daughter to sit with stranger and she gave a look that meant none of ur business.."
Sunder Natarajan posted at 11:24 PM on May 10, 2012:
"Dear Aamir,
It was a soul stirring show. You made us cry for all those who suffered and who are suffering. We hope that this programme of yours can bring a change in the mindset of people craving for a male heir. Sunder"
Dr. G.D.Gidwani pPosted at 8:39 PM on May 10, 2012:
"To Shri Aamir khan
Bollywood Superstar
Mumbai
Dear Mr. Aamir
On behalf of the entire sindhi community of Indore I have been directed to express our gratitude & indebtness to your team for the direction & production of "Satyamev Jayate " which was screened by all important news channels on 6th may 2012.
Really, the episode is eye opener & we can vouch that the law which was enacted 18 years back as regards determination of sex has not proved that much useful as your episode.
The entire community of India is shattered & we are sure that now people will not go for examination of the sex and they will welcome the baby girl when born in their family.
This will also help in balancing the sex ratio of our country which was otherwise getting disturbed.
Even before screening of the episode, with your track record the episode will bring storm in the nation & that is what happened. Please keep it up.
With regards & blessings
(Dr.G.D.Gidwani)
International Professional Engineer
President
Cc to: 1) Shri Ashok Gehlot Chief minister Govt. of Rajasthan, Jaipur. We appreciate your immediate action in the matter & we are confident that other states will follow the sued.
2) Shri Shivraj Singh Chouhan Govt. of M.P. Bhopal. No doubt M.P. has been in the forefront as regards "Beti Bajao Andolan but still a lot has to be done within the legal frame work. We request you to kindly do the needful in the matter."
Sarita posted at 7:13 PM on May 13, 2012:
"Another touching and sensitive portrayal of a problem brushed under the carpet or not looked into the eye.
Really courageous on the part of the victims to come out in the open and face the stigma and the self doubt and yet carry on afresh after ridding themselves of their tormenters
Such people who exploit children are cowards and beasts and must be exposed and ostracized and punished".
Sujata Gaikwad posted at 6:20 PM on May 13, 2012:
"Dear Amir
Firstly, congratulation on Satyamev Jayate. I have just watched your 2nd episode in which you covered the subject about child abuse.
I have lived in the UK all my life and very much aware of the horrific things that happen every day, but I was gobsmacked to hear that 53% of children in India are sexually abused. One child going through this horror is one too many but 53%, I am stunned.
It is about time the subjects that are regarded as taboo in India are discussed openly and confronted head on.
Well done, you have opened up a forum for discussion. Your program is making every individual in India watching your program think about issues that are important and matter.
I hope you will succeed in getting the Indian Government to push this very important bill through Parliament.
I wish you and your program all the success for the future.
Kind regards
Sujata Gaikwad
Cardiff, South Wales, UK."
PREVIOUS: Salman Khan can't act! BL Anniversary Special | NEXT: Sunny Leone in Savita Bhabhi avatar: Did you like her?