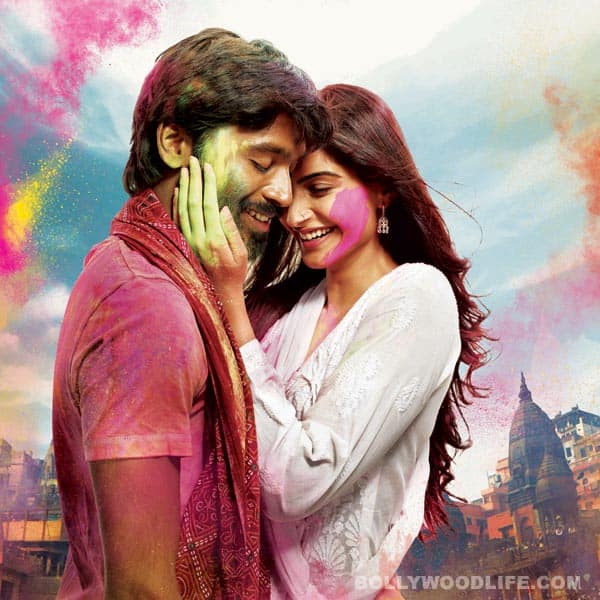 Aanand L Rai's directorial venture looks like a romantic delight, but here are some unknown tidbits that will help you decide if you wanna watch the film!
Sonam Kapoor and Dhanush's Raanjhanaa releases on June 21 and here are a few interesting nuggets we discovered about the stars of the film. How a South superstar ended up bagging the role of a typical North Indian bloke, and how a fashion conscious babe was asked to take up a diametrically opposite character – we tell you all. 
While the director, Aanand L Rai can't stop raving about Dhanush's performance, Sonam recollects that one moment when all her doubts about the Kolaveri di singer disappeared.
So here's a bit of Raanjhanaa dope for your mind; hope it drives you to the nearest cinema halls…
It seems Dhanush was in Kolkata for the Kolaveri di promotions when director Aanand L Rai asked him to consider the film. But Dhanush refused the offer as direction was his first passion. But on Aanand's insistence, the South star agreed to meet him. The director just asked for 20 minutes of his time and after hearing the script, Dhanush was bowled over. So the actor basically couldn't say NO…
As you all know, Sonam Kapoor will be seen stepping into the cute li'l school shoes of a 15-year-old. So for this one sequence, Sonam had to wear a uniform and shoot in front of a huge crowd in her teeny-weeny plaid outfit. Initially she was slightly hesitant but the moment she gave her first shot, the crowd hooted and clapped for them. That's when SK's confidence rose a notch.
For the portrayal of the 15-year-old, Sonam says she was inspired by Jaya Bachchan's character in Guddi. And as she grows up in the film and comes back to Varanasi to stay with her family after completing her education at Jawaharlal Nehru University (JNU) – for her adult phase, SK says she unabashedly tried to copy Waheeda Rehman's performance in Guide.
We hear aloo puri, masala chai and Benaras ki rabdi became Dhanush's staple breakfast while shooting for the film. He simply couldn't resist the scrumptious Benarasi delicacies. Well, what can we say, it's still not showing dude…
The Kapoor chick had heard about Dhanush's achievements down South but she really had her doubts if the actor could play a typical North Indian lover who could do justice to the local lingo. But the moment SK saw a picture of Dhanush posing with sadhus with a gamcha tied to his head, she was convinced that no one apart from him could play Kundan.
We have heard tons about Dhanush's diligence and here's one more anecdote to exemplify that. Though it was a tough task, the actor insisted on dubbing for the film himself, with the guidance of the writer and the director.
Not many know about Dhanush's Bollywood plans. The actor spills the beans by saying that that if Raanjhanaa works, he will do more Hindi films. And for now he has hit it off so well with Aanand that he's agreed to do one more film with him in 2014
It seems father-in-law Rajinikanth can't wait to hear his damaad speak in Hindi.
Now what's a revelation is that Sonam Kapoor is a religious person. And we got to know this from the horse's mouth herself. Sonam confessed that she was so smitten by the temples of Varanasi that she made the most of it by visiting the majestic marvels. 
Sonam plays a student from JNU in the film. She had to get the tone of the character perfectly right since JNU students are known to be politically aware and speak flawless Hindi. They dress sensibly and brainstorm on current affairs – they are intelligent and opinionated. So Sonam, as a part of her research, spent time with the college students to get her body language and diction spot on.