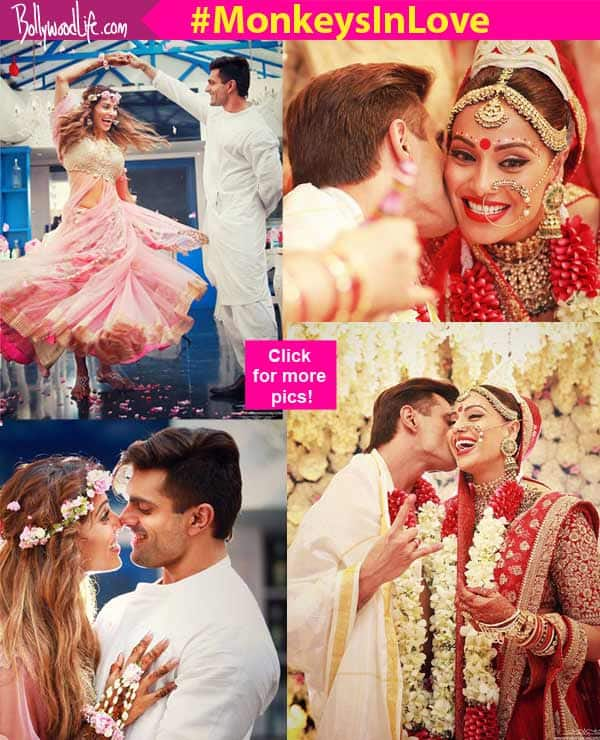 skip advertisement
teaser-bipasha-basu-252016
If this doesn't melt your hearts then I dunno what will. Check out these pictures right away….
Bipasha Basu and Karan Singh Grover's wedding was indeed one dreamy affair. While the couple looked the prettiest as they celebrated their much awaited moment with unconditional love. Their pictures further speak volumes of the priceless bond they share. I mean, just look at them! It's like every picture only comes across as an assurance that Bipasha is the happiest when with Karan and Karan is the happiest when with Bipasha. Call them a match made in heaven or monkeys on earth, it's love that tops it all and they are leaving no stone unturned to live their dreams.
Clearly, Bipasha is loving the Mrs tag. She has been tweeting tons of pictures from the wedding and reception with adorable captions like, "Mr and Mrs, Mrs. Bipasha Basu Singh Grover, Dancing bride, The Monkeys, along with too many additional hearts. Trust me, you would instantly want to fall in love with her Instagram account right now. However, wait until you check out these added pictures that have just come to us. Yes! The Wedding Story, who covered this starry wedding have captured some of the most gorgeous moments of the newlyweds- Bipasha and Karan. Be it the one where they are stealing a kiss or say a the one where  the pretty bride just cannot stop smiling, these 10 pictures will make you want to have a wedding like theirs', make you want to fall in love…
So without wasting a minute, check out these pictures and do share your wishes for the 'Monkeys' in the comments below.