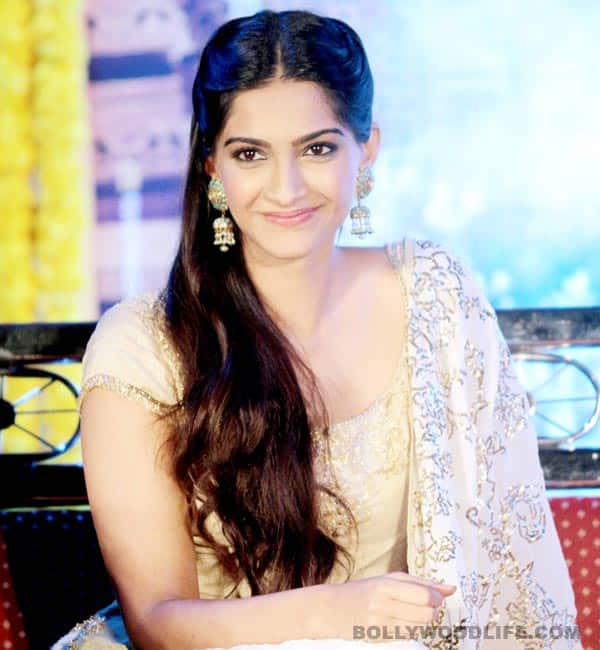 Why will Sonam Kapoor make a good politician? Read on to know…
Bollywood's fashionista Sonam Kapoor who shocked everyone with her intellect on Koffee with Karan by taking digs at contemporaries also spoke about being a politician in the future.
Apparently, she is serious about politics and wants to pursue it. We think she'd make the perfect politician, here's why:
1. The power of vague words:
Why: You know what I mean?…You know what I mean?… That's Bull***t! These statements by Sonam Kapoor on Koffee with Karan explain it all. Ever wondered how our politicians jump the gun and drop answering uncomfortable questions?
2. She's got the chuptzah:
Sonam Kapoor knows how to dress and apparently that's very important in today's age of politics. Even Narendra Modi accepted his penchant for dressing well in a television interview. He said, "I have a good sense of colour combination and like dressing well." Sonam could style other politicians like Arvind Kejriwal too as she keeps taking digs at people with bad fashion sense.
3. The 'Kapoor factor'- dynasty politics?
The Kapoor clan is akin to Gandhi clan in size. while Gandhi clan has Rahul, Priyanka and Varun Gandhi, the Kapoors too are a big dynasty in the Bollywood world.
So, can Sonam start a Kapoor tryst with politics? Our guess is as good as yours.
4. No one can stop her. Nor critics nor you!
Sonam openly stated on Koffee with Karan that the only reason she survived in Bollywood was because of her acting credentials. Mind it, no one can ever stop her!
5. She's a torch-bearer
While we support LGBT rights and were glad that Sonam came out in support of the cause. Her statements were vague, "I came out of the closet." Later, these translated to her support for the community. Only if Sonam would be a bit more precise with her words.
6. Repetitive speeches. You know what we mean?
Sonam has a penchant for repeating whatever she says till you want to hold the next person and cry out of frustration. This would be a great tool in politics as our leaders keep repeating whatever they say till the elections get over. She is a born winner!
7. Knows how to beat competition! Seriously?
While people like Deepika Padukone and Vidya Balan believe in working hard and letting their final performance talk for itself, Sonam believes in taking potshots. On KWK, she has taken potshots at Vidya Balan (fashion sense), Deepika Padukone (Fashion, character and what not!), Parineeti, Ranbir and a dozen others. So, we aren't complaining.
8. Role model
No matter what, Sonam is a role-model of sorts. But, we let you decide if you want to believe it or not after reading this statement. "Just because you are not good looking and are loud, doesn't mean you are a good actor. Hello! that's rubbish."
9. Reservation bill
Sonam has taken a day off for Mumbai elections to cast her vote (We like) and also supports various causes. So, she could join politics and work for women rights and other causes and stay away from reserving roles in films.
10. Finally, she is acting in a political film, 'Battle for Bittora'
Sonam and her sister Rhea have purchased the rights for a book and are adapting it into film screenplay. In this film, Sonam will play a politician. Even in her last release with Dhanush, she was a founding member of political group from JNU.