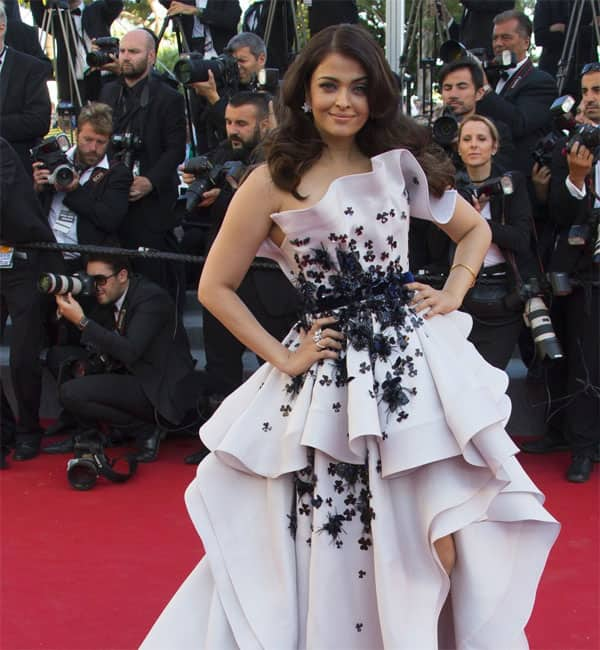 Aishwarya Rai Bachchan who made India proud in the year 1994 after bagging the Miss World title has clearly come a long way now.  She is known as one of the most beautiful women alive on Earth and we totally second that. We loved Nandini in Hum Dil De Chuke Sanam and we adored Paro from Devdas. She had many admirers in her lives who were completely smitten by her and that include the superstar Salman Khan and Vivek Oberoi. However in the end it was Abhishek Bachchan who managed to woo this actress and she decided to tie knot with him in year 2007. After marrying Abhishek, she did many films but sparingly and when she got pregnant, she took a long sabbatical to enjoy motherhood. Later she returned to 70 mm with Jazbaa. (Also Read: Aishwarya Rai Bachchan will promote Ae Dil Hai Mushkil but on certain conditions)
The actress who couldn't taste success post her break will next be seen in Ranbir Kapoor starrer Ae Dil Hai Mushkil. This movie directed by Karan Johar, will reveal the sensuous side of Aishwarya and we are already dying to see it. Her passionate chemistry with Ranbir and their intimate scenes together have already become the talking point in the industry which is why the wait for this movie is becoming even tougher. She has shed inhibitions and probably this shall be the first time when we'll get to see such a bold side of her. Her pairing with Kapoor Jr has already created quite a buzz and all in a good way. In fact fans prefer her with the actor instead of Anushka. So while we all know that she is a pageant winner, she has dated Salman Khan and married to Abhishek Bachchan, there are good number of things which we are sure you guys still don't know. Though they are not some juicy gossip stories which you will like to read but are interesting facts about the actress which her fans would like to hear. Wanna read few of them, check it below….(Also Read: Aishwarya Rai Bachchan is stealing Anushka Sharma's thunder)
# Aishwarya initially wanted to be an architect. Ultimately, modelling happened and we were gifted with this beauty
# Aishwarya's famous Pepsi ad co-starring Aamir Khan was shot in a single night during the Mumbai riots in 1992-93.
# It is said that when President George W Bush visited India, he had invited Aishwarya to a luncheaon, but she was unable to attend.
# She featured in her first commercial ad for Camlin Pencils, when she was in ninth standard
# Tulips at the Keukenhof Gardens in the Netherlands has been named after Aishwarya Rai.
#Originally, before the release of the film Mohabbatein, Aishwarya Rai Bachchan was meant to be a guest appearance. However, after the film released, the fact she was in the film became so popular that the filmmakers decided to make her a regular character.
#Karan Johar had approached Aishwarya to play the role of Tina in Kuch Kuch Hota Hai. However the actress could not do it since her dates were blocked by her movie Jeans.
#While she won the Miss World contest, the evening's host Richard Steinmetz had asked her out but she politely refused.
#Among all her co-stars, Rajinikant is Ash's favourite. She recalls working with him as the best experience ever.
#The secret of her beauty is that she consumes lesser food. Aishwarya loves reading books on history whenever she gets time. After her lunch, she usually has the habit of nibbling at fruits.
#She has the habit of collecting all news articles which are written on her
#She was the first Indian to ever visit the Oprah Winfrey show
#In spite of having an army of servants at her command, Aishwarya, who is said to be an excellent cook, loves to take the effort of doing it herself for Abhishek.
# As a token of his love for her, Abhishek however ditched the designer diamonds and instead gifted Aish with the very same ring that he used during the shoot of Guru.
# There are more than 17000 websites dedicated to Aishwarya Rai. As per imdb, her official website is www.AishwaryaWorld.com.
Aishwarya Rai Bachchan posing with an attendant during a flight

The actress was seen obliging a flight attendant, who wanted a click with her during a flight. Isn't Aish the best?

Image credit: Twitter

Aishwarya Rai's selfie with a fan in London

Aishwarya posed for a selfie with her fan during London vacation.

Image credit: Twitter

Aishwarya Rai Bachchan with Aradhya in London

This is how mommy Aishwarya is holidaying in London with daughter.

Image credit: Twitter

Aishwarya Rai Bachchan's selfie during London vacation

Aishwarya tried to keep her vacation a secret one but it couldn't be anymore.

Image credit: Twitter

Aishwarya Rai and Asha Bhosle clicked together in NYC

Aishwarya Rai met Asha Bhosle on her vacations at NYC.

Image credit: Instagram

Abhishek Bachchan and Aishwarya Rai's lovely picture

Abhishek and Aishwarya are so much in love and looks adorable in this picture.

Image credit: Instagram

Abhishek Bachchan hugs Aishwarya Rai Bachchan on their 9th marriage anniversary

Abhishek and Aishwarya celebrate their 9 years of togetherness yesterday and posted this sweet pic too.

Image credit: Instagram

Aishwarya Rai Bachchan with Aardhya Bachchan

Abhishek just shared this picture when the family was holidaying in Maldives.

Image credit: Instagram