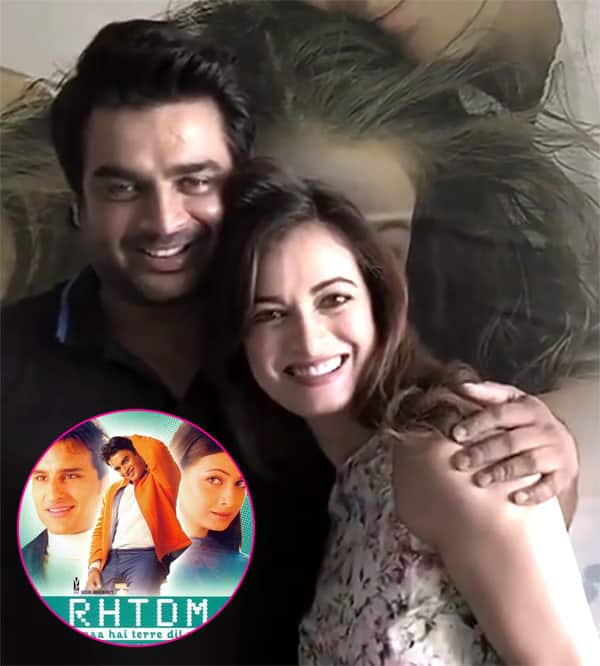 Remember Rehna Hai Tere Dil Main? The film that marked Tamil hero R Madhavan's debut and also starred the gorgeous Dia Mirza. It's been 15 years since the movie came out! Yes, that's right 15 years ago, this guy came along and redefined romance for all of us, not to mention made us weak in the knees. He was unconventional, charming and had the most infectious smile.Well, that's Madhavan for you! And you know what? Even after all these years, this hottie does it again. Dia Mirza posted a video of him enacting one of his most famous dialogues – Ek ladki dekhi bilkul bijli ki tarah … one flash … ek chamak aur main apna dil kho behta. Watch the video for the rest. Sigh, lost count of the times we have watched it. R Madhavan you are just too cute and charming! How do you do this? And Dia Mirza, feels like time and age hasn't caught up with her even one bit. She looks like she did, 15 years ago – absolutely stunning
In yet another video, Madhavan and Dia talked about how the movie even after so long is fresh in their minds like they shot for it just yesterday. Madhavan also said that in all these 15 years, Dia had only grown more beautiful while he had put on 15 more kgs (haha) Trust Madhavan to praise the lady and crack a joke at himself! They still look amazing together. They then ended the video with Dia Mirza singing Zaara Zaara. Somebody please cast them together in a movie again. They are just too good, love that they are still good friends today. Still can't believe it's been 15 years since Rehna Hai Tere dil Mein hit theatres.
Rehna Hai tere Dil Mein, directed and written by Gautham Menon was a remake of the Tamil movie Minnale. There are so many dialogues form this film that give us goosebumps even today. To 15 years of RHTDM, Woohoo. The movie that made us look at romance, differently. We owe to you, two R Madhavan and Dia who managed to portray it so well!