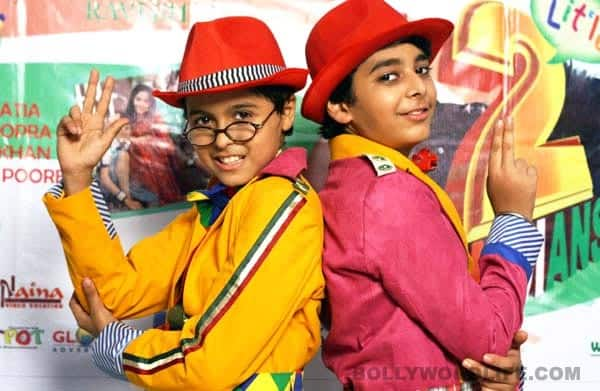 The promo of 2 Little Indians is out and the film doesn't look appealing enough to make us head to the nearest cinema theatre to watch it
Bollywood has churned out some really good kiddie flicks in the fairly recent past, but it doesn't look like 2 Little Indians will be able to match up to the high benchmark that has already been set by directors like Amole Gupte, Vikas Bahl and Nitesh Tiwari. Films like Stanley ka Dabba and Chillar Party were concepts par excellence.
So in the promo you see these two kids – about the age of nine or 10 – creating a riot of sorts. Their pranks have made the lives of  those who have to bear the brunt of it every day, miserable, to say the least. Very over the top, this one, with a huge hodge-podge created by these tiny tots in the film. No doubt it isn't easy to direct kids and making a movie with them can be quite a task. But a kiddie flick shouldn't look as if these li'l ones are left to themselves to do whatever they want. Kids enjoy watching a great deal of fun onscreen – but it's the filmmaker's responsibility to package it with the best content possible.
2 Little Indians is not the best bet if you want your small bundle of joy to have a good time over the weekend – you should take them to the nearest library instead and encourage them to go ballistic with books.