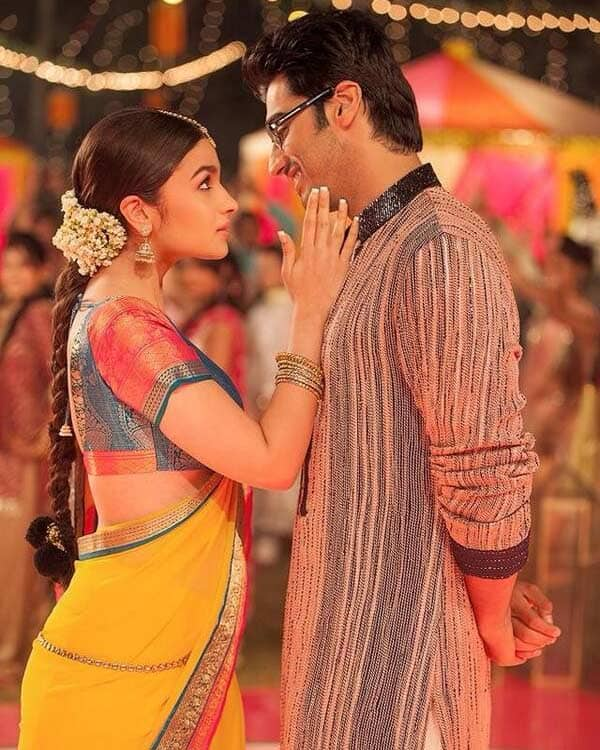 Abhishek Varman's mushy movie based on Chetan Bhagat's popular romantic novel with the same title is as breezy, fluffy and promisingly entertaining as Bhagat's unpretentiously simplistic writing!
IT IS 'FASHIONABLE' TO SLAM CHETAN BHAGAT or his writing, or both!! What is even  trendier though is to claim that every movie based on a popular book/novel doesn't quite match up to the content and the quality of the original form of art. The swankiest lot of the town loves to hate Bhagat's books. Most of them discuss the writer and his work with their noses scrunched up in cocktail parties to sound appropriate in the ears of the voracious readers. But there's no doubt about the fact that Bhagat is entertaining, engaging and downright cheap ( with books sold under Rs 100 that's the adjective one chooses strictly, if not, exactly, symbolically)
But hey didn't the IIM- A graduate-turned-banker-turned-writer get young India into the habit of reading with his breezy and unpretentiously simple writing? That you dismiss CB for not being as prolific as a Salman Rushdie or a Jhumpa Lahiri or , for that matter, a VS Naipaul, in terms of depth of the subject matter or the flourish of the linguistic dexterity, could be a subjective choice. But the fact that his books are so easy to comprehend that they can be-oops, have repeatedly been-translated into movies, just as they are, speaks for CB's achievement to connect with young India. 2 States-the movie, just like 2 States the book, is no different. Matching Chetan's writing, the film is indeed light, easy on the eye and unbelievably uncomplicated. And for those who like their books better than the movies inspired from the texts, I suggest to give this cinematic treat a deserving chance. I am sure Alia Bhatt's effortlessly charming performance and Arjun Kapoor's ease in front of the camera, coupled with Varman's commendable execution as a director, will make you fall in love all over again!
Varman mounts his film effectively and converts the chapters lifted straight from the book into beautiful and relevant sequences. It's a typical boy meet girl story. Krish (Arjun Kappor) and Ananya (Alia) fall for each other and want to tie the knot. The two are well qualified, highly educated and smart. The only hurdle they need to cross now is to convince parents and seek their approval for this cross cultural union. While Krish is garam khoon da, chicken-munching munda from (a big, fat and daaru gulping) Punjabi family, Ananya hails from a conservative, well-to-do Tamilian Brahman sect. Varman sets his film beautifully and sticks to the plot (as well as to the book) faithfully. He keeps the narrative and screenplay simple, fluid and almost always humorous. The delicious lightness of the movie not just becomes the tone of the cinema, but it also contributes to the texture of the project and it helps exploit relationship Krish shares with his mom and father as well to depict the equation Ananya has with her parents with simplicity. While the dialogues are catchy, Shankar-Ehsaan-Loy's music is hummable and flows aptly with the screenplay. The editing is fine and background score syncs with the moods.
Performances
While Alia Bhatt is consolidating her position in the industry with every film she is doing (from downright flashy and deliberately over-the-top in Student Of The Year to refreshingly stunning in Highway and now brilliant in 2 States), Arjun proves how he can grow on you as a performer slowly, but surely.
The 21-year-old spunky Alia has absolute disregards for the camera, but she seamlessly switches her body language and facial expressions as per the way in which a shot is mounted and a sequence is designed. Her range is promising and the ease unbelievable. Arjun too has matured into a remarkably promising actor since his Ishaqzaade days.
And then you have the supporting cast who are as much a part of the storyline as the lead couple. Amrita Singh as the loud, flashy yet hopelessly loving Punjabi mom is both hilarious and captivating. Revathi is deliciously cute and funnily conservative . The veteran has a dignified screen presence. The deliberation in her performance and hesitation she has employed while portraying an adorable Tamilan mother is unmistakable. ( Watch her croon  karnatic song and swiftly switching to a Hindi number pictured on her from a Salman Khan starrer decades ago will make you whistle) Shiv Kumar Subramaniam has played Ananya's stern but malleable father with conviction and Ronit Roy has proved with his acting prowess that he needs more substantial roles that can serve justice to his craft.
Final verdict:
Hate Chetan Bhagat or love him, loath his books or swear by them, but you definitely can't ignore him and most certainly can't ignore this delicious movie made with sincere efforts and heart. If you are madly in love, lonely without love or in search of love, you must catch this one, for falling head over the heels for someone is not enough. Sometimes taking a step further to take affection to its logical conclusion- no matter how the odds are stacked – initiates the beginning of a happy ending. For now, it is advisable to enjoy the journey, the process and the mush will follow!
Rating:
out of 5
Reviewed by Prathamesh Jadhav
* Poor
** Average
*** Good
**** Very good
***** Excellent