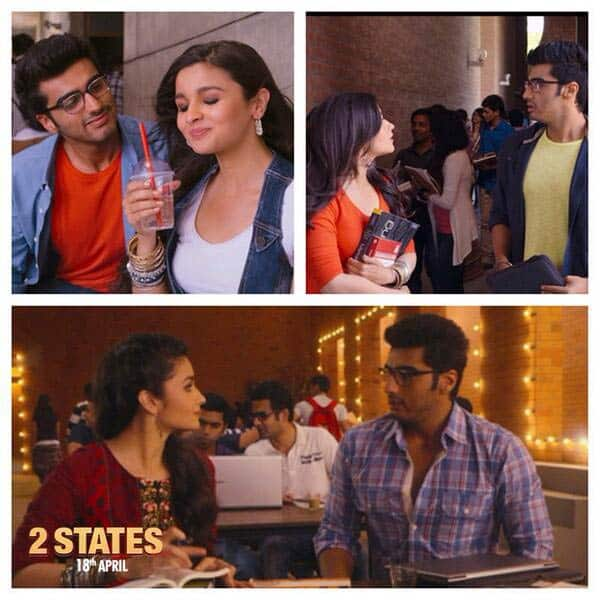 Music: Shankar Ehsaan Loy
Lyricist: Amitabh Bhattacharya
Singers: Aditi Singh Sharma, Amitabh Bhattacharya, Benny Dayal, Arijit Singh, Chinmayi Sripada, K. Mohan, Yashita Sharma, Shankar Mahadevan, Siddharth Mahadevan and Rasika Shekhar
Ever since the film on Chetan Bhagat's 2 States was announced we were waiting for the film with bated breath. Arjun Kapoor and Alia Bhatt have managed to grab eyeballs after the first trailer of the film was released a few days ago. Producer Karan Johar has roped in this favourite trio to compose the music of this north meets south love story. So do Shankar Mahadevan, Ehsaan Noorani and Loy Mendonsa manage to live up to the expectations? Read on to find out…
The album opens with Offo sung by Aditi Singh Sharma and Amitabh Bhattacharya. Offo is a youthful and peppy number with quirky lyrics which makes it worth listening to! As usual Aditi does a fantastic job but it's Bhattacharya who surprises us as we are more used to hearing him in romantic ballads. Though this isn't one of the best numbers, but it is one of those numbers which will lift your spirits instantly. Listen to it and you'll agree with us.
Next up is Locha-e-ulfat which has been sung by one of our favourites – Benny Dayal. The video picturised on Arjun Kapoor and Alia Bhatt have different instances where the lover boy is seen staring at his ladylove. Though it's a situational number, we won't be surprised if guys use this number to woo the girls in college campuses. After crooning for several dance numbers like Badtameez dil, Shake it like Shammi and Disco deewane, Benny impresses us yet again with this soulful yet energetic offering.
Following this is Mast magan – a duet rendered by Arijit Singh and Chinmayi Sripada. The composers have infused a beautiful sufi feel to this romantic number and the singers do complete justice to this track. The shehnai makes difference to this otherwise mushy duet. While the song did sound quite similar to Sajda from My Name Is Khan, we aren't complaining coz Arijit's passion makes all the difference in this one.
Iski uski is the next one in the album crooned by Shahid Mallya and Akriti Kakkar. Though this techno bhangra number isn't one of best dance numbers; the singers do an okay job due to the peppy music and fun Hinglish lyrics. Though it is a loud number, it has very little impact once the track is over.
Chandaniya by K Mohan and Yashita Sharma is a beautiful guitar infused track perfect for long drives. While the beginning of the song did remind us a lil of the famous Dooba dooba number, the duo offers freshness to this romantic number which has been missing when it comes to lovey-dovey songs. The country feel of this track will makes you leave everything to get lost in this soothing composition. This number will surely remain in your playlists for a while.
The last track of the album is the shaadiwala number in the form of Hulla re sung by Shankar Mahadevan, Siddharth Mahadevan and Rasika Shekhar. This one is a full on Punjabi number complete with dhol and Punjabi lyrics. While we like the energy levels by all the singers, we were a lil disappointed that the song is more Punjabi and less of south.
Verdict: The music of Alia and Arjun's much awaited love story is quite refreshing. Though this album isn't one of the best ones by Shankar Ehsaan Loy, it is a relief to see the trio back in action.
PS: Locha-e-ulfat, Mast magan and Chandaniya are worth listening to!
Rating:
out of 5
Reviewed by Purva Khole
* Poor
** Average
*** Good
**** Very good
***** Excellent