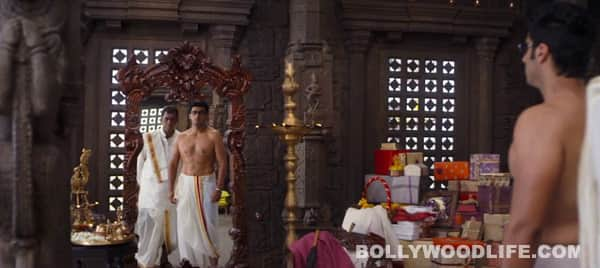 The latest promo of 2 States will definitely tickle your funny bone
Arjun Kapoor can do anything for his lady love Alia Bhatt on screen. The latest promo of 2 States shows Arjun Kapoor trying hard to impress Alia's father in the film. The highlight of this promo is Kapoor's funny boxers that manage to stand out even in a simple silk veshti. That this Punjabi munda cannot tie a veshti is no rocket science, neither is it rib tickling to watch him struggle with the silk gear. But it's Alia's father's over enthusiasm that will get you roaring with laughter. Alia's paa offers to exchange undies with his to-be son-in-law.Arjun aka Krish is willing to go to any extent to win his ladylove. However in the process he suspects that his to-be father-in-law is actually trying to see if all his accessories are fine and that the boy has no physical flaw. Now we like the humour Arjun brings to this scene by stating that Alia aka Ananya has already checked him out before.
But like we said it's Arjun's boxers that steal the show, even Ananya's paa cannot help noticing the cool cartoon's on his boxers and even offers to exchange it with Krish.
Here's a look at the latest promo from 2 States, don't be surprised if these cartoon boxers will soon set a fashion trend.
[flv image = "http://st1.bollywoodlife.com/wp-content/uploads/2014/04/2-states-140414.jpg"]http://st1.bollywoodlife.com/wp-content/uploads/2014/04/funny-boxer-dialogue-promo.flv[/flv]