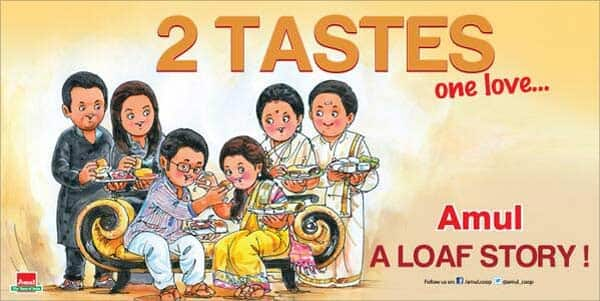 The tagline is actually 2 tastes one love, but the attempt to make viewers read between the lines is inspired from the recently released Arjun Kapoor and Alia Bhatt starrer
While Ananya's ( Alia Bhatt) Tamil mother might see Panjabi as the most uncultured lot, Krrish's ( Arjun Kapoor) overbearing Panjabi mom thinks that all 'madrasi' girls chase gore chitte Punjabi boys to make up for their ominous dark skin. Chetan Bhagat, and now director Abhishek Varman, exploit the deep-rooted prejudices and hatred we as a community develop against the folks from other states in India.
While Punjabi's are known for counting cars to showcase their fortune, the South folks measure their 'cerebral' status by boasting the number of cousins in the family who work in America as engineers and doctors. 2 Sates exposes it all with a hint of tease.
And now cashing in on the popularity of the movie, as indeed showing how we love our countrymen from the other states (pun intended) here's Amul commercial. Two tastes one love roars the hoarding and those who can sense the subliminal message must be giggling already!