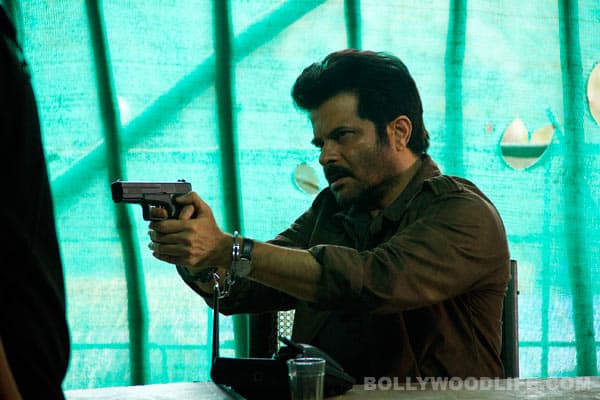 But is the nightmare over? Or is it just beginning for ATU agent Jai Singh Rathore?
So 24 is going great guns. And yes, there are lots of guns involved. The story is speeding along, as it does on the American show starring Kiefer Sutherland, and Anil Kapoor as Jai Singh Rathore is staying true to his character, although earnestly rather than naturally. The story is bouncing from high point to high point, ruthless getting rid of characters along the way and taking turns that are unexpected and occasionally shocking. So far, Jai has been shot at, beaten up, hunted both as a fugitive and an agent, has killed, punched and shot at various members of the villainous group, the police, secret agents and who knows who else. And there is a little respite from the action – poor Jai does not even have the time to bathe or change, which is so unlike the usual desi serial or movie, hai na? The Indian version of 24 is keeping up with the ethos of the original – no songs, no faltu scenes or dialogue, no dying speeches, no rona dhona; it is all realistic, in real-time, with real characters. And in spite of Anil's occasional lapses into Hindi movie overacting and everyone's makeup being immaculate in spite of all the frenzied action, we like!
The story so far – Jai has managed to rescue his wife Trisha (Tisca Chopra) and daughter Kiran (Sapna Pabbi) from the bad guys. The women are being checked in hospital and will soon be taken to a safe house, since ATU agent Nikita Rai (Mandira Bedi) believes that they are still in danger. At the ATU headquarters, Jai is under arrest and being questioned; his replacement, Abhilasha Grewal, is an old enemy who has nothing good to say or think about him. Meanwhile, Aditya Singhania (Neil Bhoopalam) is still in danger – a second assassin from Sri Lanka has arrived in the city with plans to kill him before he can become Prime Minister. But election to that high governmental post could be scuttled by his own personal history and some family plotting. As all this goes on, journalist Mehek Ahuja (Suchitra Pillai) has been killed by drowning in her own bathtub, after which evidence is destroyed by a contrived explosion. ATU agent Gia, who slit her own wrists after she is discovered to be an informant, dies in hospital and Tejpal Singh and Nikita are torn between the need to satisfy Abhilasha and their loyalty to Jai. And with all this going on Rohit, the lad who helped Kiran and Trisha get out of captivity is left behind in the forest, badly injured. To complicate Jai's life, Aditya turns up at the ATU office looking for him, looking for explanations about what happened in Sri Lanka during Project Trishul that his father, who was once PM, sanctioned. While everyone is trying to figure things out, Aditya's aide Pooja secretly goes up to another floor of the hotel for a passionate reunion with a man called Bala, who is a killer from Sri Lanka…
What happens next? Will Aditya support Jai and get him out of the net that Abhilasha has thrown around him? Will Trisha and Kiran be safe? Will Jai find the real assassin? And who else will die before the remaining 12 of the 24 hours pass? We can't wait to find out!