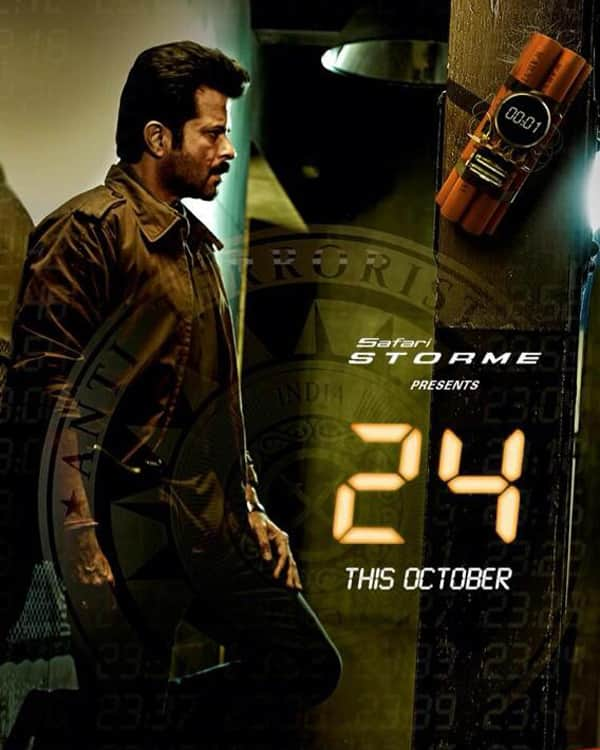 The new show also starring Tisca Chopra, Mandira Bedi, Neil Bhoopalam and others is well worth a watch and could be the start of a new wave of television programming and watching….
November 6, 2001. Jack Bauer has 24 hours to foil a terrorist plot, catch the bad guys and save the people, if not the world. Played by Kiefer Sutherland and supported by a cast that included Elisha Cuthbert, Dennis Haysbert, Mary Lynn Rajskub and others. Each season had 24 episodes and was narrated in real time. The show was a critical success and did well with the audiences too – it became the longest running series in the genre, in spite of some objections to the detailed depictions of torture and the simplistic portrayal of Muslims as the bad guys. It ended with its ninth season on May 24, 2010, a fitting date.
And 24 has arrived in India with the requisite bang. Produced by Anil Kapoor (who played Omar Hassan in Season 8) and starring the actor as Jai Singh Rathore, the first episode established a new standard in quality television programming. It was a joy to watch, with production values and a tautness that was astonishing, especially considering it came into a world populated by tedious saas-bahu dramas, tacky reality shows and tasteless waves of badly done comedy.
The show is focused on Kapoor himself, but the other actors make their presence felt with class and quality performance. Tisca Chopra plays Trisha Rathod, the neglected wife, while Mandira Bedi comes back to TV as Nikita Rai, Rathod's former lover and now colleague at the ATU (Anti-Terrorist Unit) and Sapna Pabbi does a good job as Kiran Rathod, the daughter. Neil Bhoopalam is the Rahul Gandhi-type politician Aditya Singhania, being guided by his mother Anita Raaj. Anupam Kher (dead in the second episode), Adhir Bhatt, Rajat Kaul (the best looking villain we have ever seen!) are also part of the cast, which will include Shabana Azmi and others as their characters enter and leave the show.
The first episode wasted no time with the introductions so often necessary for television serials. It dived right into the story with Rathod being pulled away from his wife's birthday celebration by a plot to kill the prime ministerial candidate. There are two sisters who seem to be on the side of the villains, and kill with a cool panache that is delightful. Kiran is the rebellious young adult who gets into a mess that gets more complicated with every tick of that digital clock. Trisha goes out on her search for her daughter with a man she does not know – unusual for an Indian story. Mandira Bedi is an actor who has been missed and proves that she is more than a bahu in a Hindi soap.
The action is taut, fast-paced and absorbing. The streets of the city get a new and sinister ambience with each u-turn – and like in so many big-screen productions, they are oft-navigated by the branded vehicles that sponsor the show. The lighting is fabulous, dark, gold, shadowed, fluorescent…great thriller atmosphere created by the flick of a switch! And the dialogue is conversational, not stilted, naturally delivered and almost always real. Anil Kapoor lets go of his hamming and does a magnificent job as Rathod, though in the shootout in the preview theatre that goes a little off-track – you can see his filmi avatar come through as he looks back as he dodges bullets, tries to protect his informant (Kher) and shoot at the baddies. But as with the American 24, these are all real people, who hurt, sweat, get upset, bleed and do not recover in the minute after they are injured. That is always the best part – the human-ness of this show as a concept and in its execution.
Expectations are sky-high for the Indian 24. We hope that Anil Kapoor and his able team can reach that level and keep it there For now, Friday needs to arrive sooner than scheduled!
Rating:
out of 5
Reviewed by BollywoodLife
* Poor
** Average
*** Good
**** Very good
***** Excellent