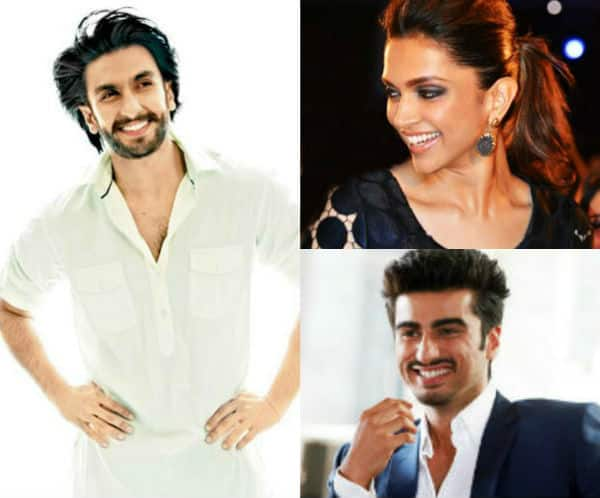 We suggest what girlfriend Deepika Padukone and BFF Arjun Kapoor should gift the Ram Leela actor on his big day
Ranveer Singh is a human energizer bunny. If you meet him in person you can't resist his infectious energy and charm. Always in the mood to do something, be somewhere and plan another day, Ranveer celebrates his birthday in Turkey today with the cast and crew of Dil Dhadakne Do. BollywoodLife decided to think of 3 wonderful gifts the actor should get from his loved ones and friends this year…
Deepika Padukone
We believe he's gifted her the love pendant that she wears so affectionately around her neck. So it would only be right if his girlfriend gave him some jewelry. We aren't taking about solitaires and chains, but maybe a sexy platinum bracelet with a cool customised inscription ? We think Dippy knows Ranveer is for keeps and she should go all out to pamper him with something big on his birthday.
Sanjay Leela Bhansali
His Ram Leela director who has a taste for all things arty, can give Ranveer a painting or portrait of the actor in his buff ? We know that RS has an aversion to clothes and loves to flaunt his well chiselled torso. And we also have seen how Bhansali has captured him in his bare bodied avatar in the Lahu Moonh Lag Gaya song. A sexy portrait of Ranveer in all his glory would be quite a thing, don't you agree?
Arjun Kapoor
His BFF Arjun Kapoor who knows almost everything about Ranveer and has shown the world how much chemistry they share on Koffee with Karan should make a hot tape mix tape of the best rap songs for the actor. Ranveer loves hip-hop and R&B, and we know he can rap (Do the Rex). So a playlist featuring Biggie, 2Pac, Snoop and Drake would make for an amazing gift.