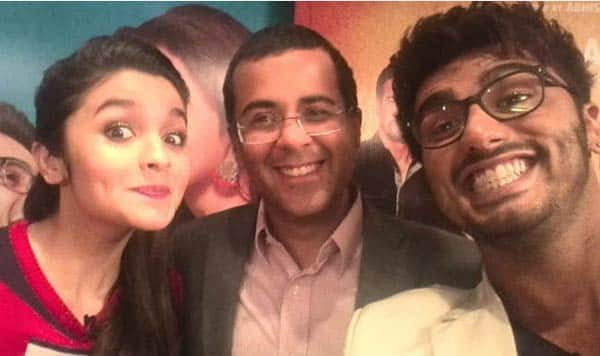 skip advertisement
The 2 States couple has been going all the way out to promote their upcoming flick and also posing everywhere for selfies, but are they even looking cute in them? We ask…
The selfie has been the latest addition to every gadget freak individual's vocabulary and the stupendous success of the Oscar selfie, it just proved to be a free pass for every human being to pose anywhere and everywhere for a selfie. Arjun Kapoor and Alia Bhatt have taken the selfie to a completely new dimension. They are using it for promotions of their upcoming flick 2 States,  and they have been clicking selfies and posting them on social networking websites every now and then. It was cute and love-dovey at the inception but now we feel that the two should stop it, as we are feeling choked with their selfie overdose. Why do we think so?
Here are the reasons:
Firstly, Alia Bhatt looks young, bubbly and cute but Arjun Kapoor, with his thick stubble and brooding looks doesn't at all seem to be suiting those selfies. To add to the torture is Arjun Kapoor smile. Actually we should not be calling it a smile as it is more of a self imposed exposé! Looking at his 32 teeth exposé, we feel that the very next moment he will be knocking our doors and asking us 'kya aapke toothpaste mein namak hai?'
Secondly, Arjun Kapoor and Alia Bhatt have overdone the public display of affection (PDA), and now we also are no more interested in the same. They have been constantly denying the fact of them being in a relationship, but with their deluge of PDA, confused us in the beginning. But now wethinks their excessive PDA's is just another promotional gimmick. We don't mind them being together, but too much of anything, after a certain point of time, people start disliking and wethinks their PDA's have crossed that holding barrage. So guys take a chill pill and stop it!
Finally, Alia Bhatt and Arjun Kapoor should take some selfie clicking sessions from Bradley Cooper. Their selfies are not clicked in the best of poses and seem to be over the top pathetic. Alia's clicks are still better but Arjun's clicks make the individuals posing in the photos look like caricatures which come on the fun-gossip column of every newspaper. We aren't able to take anymore of  those huge headed Arjun Kapoor selfies.
So we from BollywoodLife would sincerely request the alleged 'good-friends' to at least spare us the horrors of watching their selfies every alternate morning which ooze with loads of PDA!