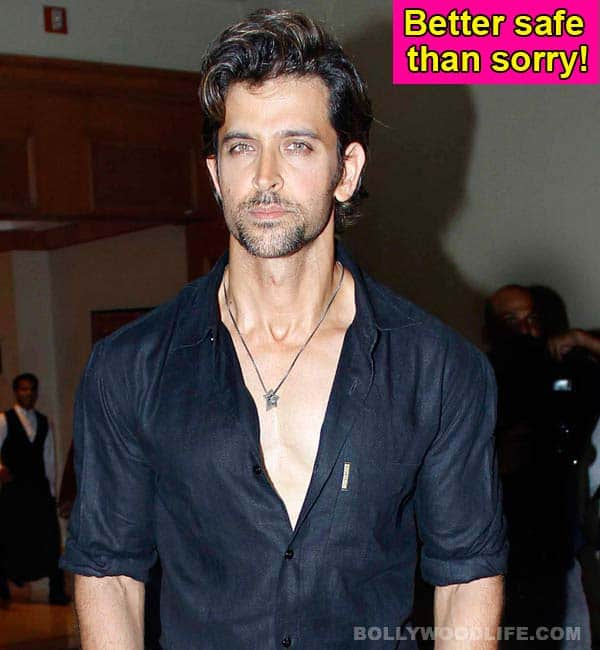 Our loyal readers are of firm opinion that Hrithik Roshan is risking his life by doing daredevil stunts in his next Bang Bang all by himself, refusing the able assistance of professional stuntmen
We spotted Hrithik Roshan indulging in some high-octane action sequences while shooting for his forthcoming movie Bang Bang in Delhi. And we could not help but go tch tch and ask once again-why the superstar needed to pull off those stunts all by himself especially when the able assistance of professional body doubles is always there at his disposal? Why is our B-town hunk taking the risk of throwing himself into the thick of these deadly action sequences, we asked our readers. And as expected, BL enthusiasts responded with their cheerful enthusiasm laced with witty wisdom.
"You can't blame him. He's trying to live up to his reputation as an on-screen perfectionist, and probably listening to his 'life coach' guru too much. I'm all for positivity, but not stupidity. With slipped spinal discs, knee problems, and a recent head injury to date, if I were him I wouldn't be doing anything that can put myself on a life support machine! There's no shame in using professional stunt guys or body doubles if they do the shoots justice. He needs to slow down a little and think of his boys." Said Catyypuss. Clearly, this reader vouches practicality and safety for the superstar.
Krrish 3 superhero's mighty fan Christine Faine had a different take on the issue. Faine stated that one must admire Hrithik's zest to pull off those scenes all by himself. "As Hrithik has said and as he lives his life by pushing the extreme, he will do his very best…not second best…for whatever he's involved with. His producers are fortunate to have so dedicated a performer. Besides, they have insurance no doubt, so their potential financial loss is covered. A greater loss would be to us, his fans, should something go horribly wrong. Pray for wisdom, safety, and strength for this amazing, dedicated star and his crew. Don't want to lose the magic!," said Christine.
Another BollywoodLife follower maintained that it is high time that Hrithik stopped being foolish. She stated that Hrithik is respected and loved for what he has achieved in his careers. There's no need to push the envelope especially in the zone where it is absolutely unwarranted."I admire him greatly… But, in my opinion Hrithik is being foolish to place himself in danger of permanent damage. Personally, I would grieve deeply were anything to cause him more harm, or prevent him from being able to enjoy his children as they grow. One wonders from where the new push for perfection originates and one hopes he will see clearly that he is greatly loved and respected just as he is, and more so, without foolhardiness," opined Soni.
We at BollywoodLife believe that the superstar who is steadily recovering from his brain surgery needs to take it easy on himself. There's absolutely no need to take such risks to indulge in daredevilry which can be best handled by action experts and body doubles, hai na?