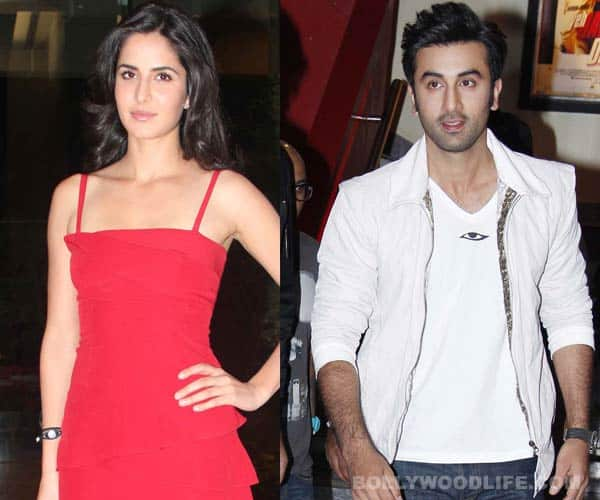 The Kapoor lad will soon shift to his new plush pad on Hill Road and rumours are rife that his alleged ladylove will also move in with him. But wethinks otherwise… read on to know why
Katrina Kaif and Ranbir Kapoor's affair has been nothing less than a filmy story. Break-up, patch-up, commitment issues and what not, this couple has gone through everything and the two are still together. Commendable, hai na? It's altogether a different story that neither Ranbir nor Ms Kaif has admitted being romantically involved till date. But nobody really cares anymore coz we all know what's brewing between these two. We dunno about their shaadi plans but we recently told you how RK has decided to move out of his father Rishi Kapoor's bungalow Krishna Raj. The talented actor has bought fourth, fifth and sixth floors in a 10-storey building wherein he will move in pretty soon. It is being said that Ranbir and Kat will live together in their new love nest. Now that would be great for this duo and their on-off relationship but we list three reasons why this may not happen at all…
The Dhoom:3 babe has been Ms-politically-correct ever since the bikini episode took place. It will really surprise us if she starts living her beau. Not to forget, she loves to keep her personal life under the wraps and this move would only bring her in the limelight although more.
Then we all know about Jr Kapoor's Casanova image. For now, he may be committed to Katrina but you never know, hai na? Also, Ranboo likes his own space and that's one reason why he is moving out of daddy dearest's house. We are sure he wouldn't want the same thing at his new place – the only difference would be – instead of RK's dad it would be Kat keeping a tab on him.
Lastly, Rishi Kapoor is already miffed with Kat's frequent visits to Krishna Raj. Imagine what would happen if she and his laadla beta start living under the same roof. It could very well put an end to their prem kahaani, right Bollywoodlifers?