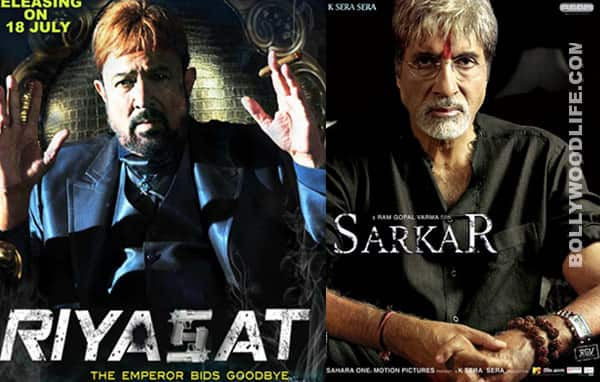 The first superstar of Bollywood essays the role of a Don in his last film
While similar posters of different films is not a new phenomena in Bollywood, Rajesh Khanna's Riyaasat and Amitabh Bahchan's Sarakar strikes many similarities that we couldn't ignore. Have a look…
Don's who are loved by the people: While Amitabh Bachchan essayed the role of Balasaheb Thackeray in Sarkar and Sarkar Raj, Rajesh Khanna's role in Riyaasat seems to be on similar lines. In their respective films, Subhash Nagre (Amitabh Bachchan – Sarkar) and Sahab (Rajesh Khanna – Riyaasat) struggle in the interest of their followers and it is the people's support which makes their characters larger than life.
Poster: If we look at these posters closely, it is the same concept of Sarkar which the makers of Riyaasat have used. Dark background, intense looks and a French beard make these posters similar in many ways.
Storyline: In both the films, the lead protagonists struggle to establish their supremacy. Both these characters are a people's favorite and fight with the evil power to maintain preeminence amongst their subjects.
Image changing roles: While Kaka was known for his romantic characters, Big B too played the chocolate boy roles during his hey days. From romantic roles and an angry young man image, Rajesh and Amitabh swiftly moved to playing characters roles which suited their age and stature.