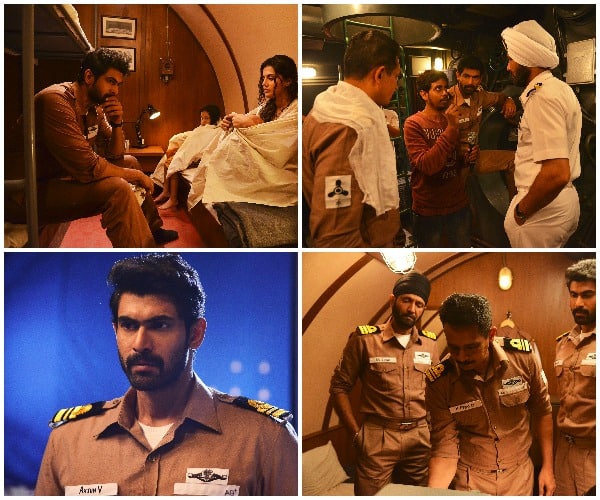 Only two days to go for The Ghazi Attack, the first submarine based war film. The movie has caught everybody's attention already, considering its intriguing story and  visually compelling trailer. Sankalp, the director and team have a story to tell, that not many knew of. It's a classified mission The Indian Navy took on just before the main Indo-Pak war. This story will unfold with 4 main characters in the lead. Karan Johar has been associated with this unconventional tale, as he and Anil Thadani are distributing the Hindi verison. The movie is also release in Telugu and dubbed in Tamil. So, why are we excited about the much talked about – The Ghazi attack? Here are our reasons
Compelling visuals – The vast endless blue sea and a submarine – These two things might sum The Ghazi Attack but it enough to blow your mind away. The first scene where they show a panoramic view of the sea sets the excitement for this movie. Thereafter the underwater scenes, the explosions and the insides of the submarine are enough to set your heart racing and wanting for more. Also Read: What does Rana have to say about Taapsee Pannu's Bollywood innings? watch video
Powerful cast – When a film stars Rana Daggubati, Taapsee Pannu, Atul Kulkarni and Kay Kay Menon, half the job is done. Considering, they all come from different acting schools, they  complement each other perfectly and have the potential to come out with some powerful! Rana's screen presence, Atul- Kay Kay's dialogue delivery, Taapsee's convincing portrayal – each of them have something to offer and neither overshadows the other.
Intriguing tale – It's a classified mission that took place just before the 1971 Indo-Pak war broke out. A Pakistani submarine had set out to destroy the one and only Indian aircraft carrier – INS Vikrant. The Indian Navy got to know of this, and made one of their own instead. They decided to get another submarine to pose at INS Vikrant at the Vizag Port. Their one strategic weapon against their counterpart was ( as one of the former officers said) 'surprise'. But this mission took a mysterious turn when The PNS Ghazi exploded and the Sank. Navies form both sides have different versions to tell. Till date, the real reason is not known.
Sankalp Reddy – We don't know much about this short films director who was found by Rana Daggubati but in an interview with Bollywoodlife, Atul Kulkarni revealed an impressive side to this debutant – "When he had thought about this script, he built a submarine replica in his garage and he called a few theatre actor ( his friends) and shot a couple of scenes, and with that footage and the script he approached the producers." who wouldn't be convinced by his idea?
Trailer and poster response – When the first look was out, fans were intrigued by the dark aqua theme. The first question that came to people's mind – What is The Ghazi Attack all about? Each poster gave us a glimpse of this rare war film. When the trailer was out, jaws dropped because of the breathtaking backdrop and the fact, that it was shot inside a submarine. Whether it was real one or a makeshift one, nobody could tell and that's the beauty of it all.
So, how excited are you to see a rare war film unfold on the big screen?