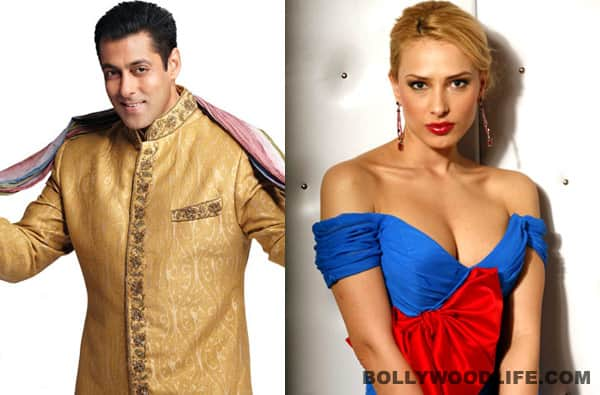 Sallu miyaan's personal life has always been in the limelight more than his professional space. Every time the Dabangg Khan is said to be in a relationship, we keep our fingers crossed hoping he'll give up his single status. But sadly that hasn't happened and though the superstar has once again hinted at taking the plunge by this year end, we give you five reasons why we think he won't…
A lot has been said about Salman Khan and his latest firang muse Iulia Vantur. The two have been in the news since 2011. Yes, that's when Ms Vantur came down to India for a holiday. Within no time, a Romanian magazine linked up the two and the rest is history as you'll know, hai na? The blonde beauty has been spotted with the bhai of Bollywood several times and soon reports of them being a couple did the rounds in the Indian media circuit as well. From staying with Sallu's parents to frequenting a five star hotel with the Kick actor in Bandra, gossip columns were filled with the moves of Salman and this foreign import. Then suddenly the news of the duo's split made headlines. But the Being Human star and Iulia stayed in touch even after their alleged break up and Khan's lady love is all set to make her Bollywood debut with an item number in Atul Agnihotri's O Teri. Well, the song is already out and we found it quite thanda. In fact, we felt the same about the Romanian TV presenter. But coming back to the Jai Ho actor, in a recent interview Sallu hinted about getting married by end of this year and also mentioned, "Father is Pathan, mother is Hindu, second mother is Catholic, and brother-in-law is Punjabi. Wife, I am thinking to bring from outside." With this statement, rumour mills went berserk about Salman-Iulia's shaadi but that's not going happen. Find out why…
O Teri: This has got nothing to do with SK's jigri dost Aamir Khan…giggle. Wethinks the whole 'Salman planning to get married' episode is just a promotional jig for Atul Agnihotri's film O Teri. Considering that Atul is family and bhai loves going out of his way to help his near and dear ones, it's pretty easy to read between the lines in this case, hai na? That's not it, during the release of Ek Tha Tiger, Salman Katrina break up garnered enough eyeballs and set the stage for film's promotions.
Contradictory statements: Salman's statements remind us of a weather cock's constant fluctuations. They are so contradictory that after a point you would think it's better to listen Rahul Gandhi's speech instead, coz at least he sticks to one answer irrespective of the question. In the same interview where the Kick star stated about getting a wife from outside, he also said, "I have not been like the most incredible boyfriend. I could be the friend and I have heard this from the ex-girlfriends also that (he is) a great friend but miserable boyfriend." In that case, why would Iulia or for that matter any girl would want Salman as her boyfriend, no? Also Sallu has confessed he's a spontaneous person and considering his great sense of humour (especially the virgin remark on Karan Johar's chat show) we will not be surprised if SK declared the marriage statement as an early April fool joke.
Going public with his relationship: If Sallu miyaan is dating someone, the whole world knows it. Be it Sangeeta Bijlani, Somy Ali, Aishwarya Rai Bachchan or then Katrina Kaif, the industry and media is aware of the bhai's protective nature towards his girlfriends. The actor has always been vocal about his relationships so far, but with Iulia it has been the other way around. Maybe that's coz there is nothing really to admit.
Not marriage material: Whenever the Ek Tha Tiger actor has been asked about marriage; his answers have always assured us that he isn't marriage material. "Marry, I don't know. But kids, I love them and want to have them. I am working on a way I can escape marriage and just have the kids", "I am not interested in getting married or having a girlfriend" and very recently at an event Khan said, "I love kids… but with the kid comes the mother. I don't want the mother". Now that explains why Salim Khan's oldest son is still a bachelor.
Almost married: From Somy Ali to Sangeeta Bijlani to Aishwarya Rai (now Bachchan) and lastly Katrina Kaif, Salman Khan almost got hitched (at least as per the reports) to every starlet he supposedly dated. In fact the actor himself said on KWK 4 that he was supposed to get hitched to Sangeeta Bijlani, even the wedding cards were printed, but marriage didn't happen. Call it fate or mere coincidence but each of Sallu's relationship has ended just when everybody thought he would tie the knot. Haath ko aaya par muh na laga – that's how SK's love life has been and we really do not believe our most loved Khan and the eternal bachelor of B-town when he says marriage is on the cards, do we BollywoodLifers?