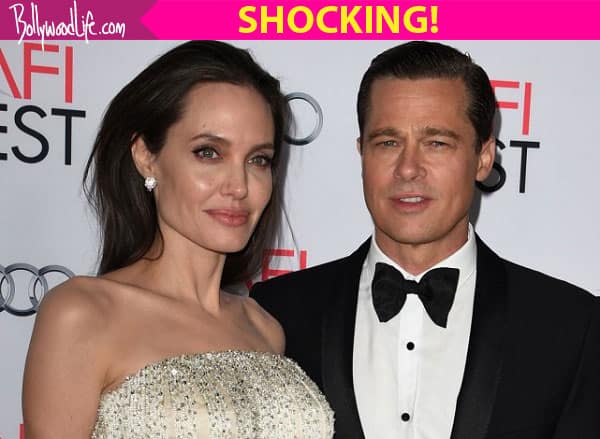 The world and especially hopeless romantics were in for a shock when Angelina Jolie filed for a divorce from Brad Pitt citing irreconcilable differences. We all curled up into a ball and wept our eyes out knowing one of the best Hollywood couple called it quits after being together for 12 years. Yes. 12 effing years! Who would've thought that the always happy couple actually had a troubled marriage? Not a soul had this idea. However, now that they have filed for the divorce, slowly, a lot of unknown hazards of this relationship are coming out in the open. From blame games to custody fights, things are starting to turn ugly for this couple.
However, there are a lot of speculations flying about the air. Starting from his alleged cheating to her claiming that he is a bad father, a lot of allegations and theories are doing the rounds. While we did expect that the couple may have an amicable settlement despite all the murmurs about the backlashes of their marriage, looks like it's gonna be a nasty affair to remember! In fact, Twitterati and even folks from the West are dragging in Brad's ex wife Jennifer Aniston amid this fiasco. So you can imagine the magnitude of the same. However. while all speculations are doing the rounds confusing everyone, we decided to compile the 5 shocking theories of reasons for the Brangelina split! Scroll away, check it out and tell us which one you think is the most apt one!
Brad Pitt is a bad father!
Now let's call out the first theory that is Pitt's bad parenting towards their six kids. The actress might not have cited reasons on paper but a source was stated saying that she was unhappy with Brad's way of parenting. "Angelina's decision to file has to do with the way Brad was parenting the children … she was extremely upset with his methods. We're told there was no alleged "third person" … her decision to file was solely over Brad's interaction with their children," said the source. According to People's Magazine, Brad had a more stricter approach towards their kids while Angelina was more relaxed and lenient. Turns out, he even abused his kids verbally and physically! Sources familiar with the situation told the leading portal that Brangelina and their kids were on a flight last Wednesday i..e 14th September, when he allegedly got wasted on the private jet. That led to him going wild, screaming and getting physical with the kids. The report further added that a lot of people at the airport witnessed Pitt's rants as he ceased to stop. This however, soon resulted in someone either on the plane or the tarmac anonymously reporting the incident to the L.A. County Dept. of Children and Family Services. The former couple have already been interviewed by the DCFS and they now plan to interview the kids as well. Investigation on the same is on going.  This reason takes the first spot. (Also Read: Brad Pitt under investigation for child abuse?)
Did Brad Pitt cheat on Angelina Jolie while they were married?
So the couple got together on the sets of Mr and Mrs Smith while he was married to Jennifer Aniston. Of course, cupid struck and we know the rest of the story. They had a pretty nasty divorce. Since then, Brangelina got together. However, few years later, a similar episode seems to have happened to Jolie too as apparently he was cheating on her as well. It is believed that Brad Pitt and his Allied co-star Marion Cotillard were fooling around while filming Allied. Angie had a hunch of the same so she hired someone to confirm the same. "She hired a private eye because she felt he was fooling around with her on set, and it turns out, he was," a source told Page Six. "And that was the final straw." (Also Read: Is this actress responsible for Angelina Jolie and Brad Pitt's divorce?)
Did Brad Pitt's substance abuse, anger issues, pot consumption drive Angelina Jolie to file for a divorce?
Turns out Jolie was 'fed up' of Pitt's constant consumption of weed, drugs and also, his anger issues. The Sun.co.uk reported, "A source told the US website that the drug use mixed with what Ange believes is a 'drug problem' – led to her thinking it was a dangerous environment for their children. They claim Angelina's entertainment attorney Robert Offer says she made the decision to end the relationship "for the health of the family."" In the past as well, the actor, on several instances, admitted his love for smoking pot. However, he had stated that he stopped after becoming a father. So has all that feeling gone with the wind? (Also Read: Did Angelina Jolie keep Brad Pitt in the DARK about her divorce plans?)
Sudden change in Angelina Jolie's way of living post her mastectomy in 2013 caused a rift between her and Brad Pitt?
Post her mastectomy in 2013, a lot of changes occured in Angie and Brad's relationship, apart from her personal transformation. Her lifestyle, eating habits and a lot changed including a sudden change in her, emotionally. Apparently, that too caused a rift between the couple, as Brad was unhappy with the change. DailyMail stated, "When Angelina underwent her mastectomy in 2013, her health and life in general became a priority for her," they told Daily Mail. "Her views on life changed. Suddenly she saw herself walking in her late mother's shoes – and she was no longer that wild, fun loving woman she used to be, she was taking things a lot more seriously." They added: "Angelina wasn't really interested in doing any project that took her away from the children and home, but Brad was still wanting the wanderlust, adventure-filled life that first attracted him to her." So did that further propel Pitt to cheat on Jolie?
Monetary issues caused trouble in Angelina Jolie and Brad Pitt's paradise?
Their marriage was already on the rocks post reports of Brad cheating on Angie for Marion Cotillard started doing the rounds. With a high standard of living, their expenses too took a toll, causing a lot of financial issues between the couple. "Recent news on Angelina Jolie and Brad Pitt reveal that the couple may be continuing their divorce because of financial issues," the Morning Ledger told readers on June 7. The outlet also stated, "Angelina Jolie and Brad Pitt have been buying luxurious things and houses recently. In doing so, it is suspected that their money-spending habits have raised some financial problems between the two, adding to the speculated divorce happening between the couple." Although, post reports of his alleged affair, a source had quoted, "He will be the one to file," the source continued. "He's fed up with her controlling ways, her obstinateness when it comes to listening to him about her health issues and how she needs to slow down and now her outright jealousy when it comes to other women," looks like the ball was on Jolie's court! (Also Read: 400 million dollar divorce! Brad Pitt and Angelina Jolie's marriage comes to an END)
It is quite sad to learn that this gorgeous couple is heading for splitsville after giving major relationship goals for over 12 years! What do you think could be the boiling point to Angelina to have called off the marriage and headed for a $400 million divorce? Tell us in the comments section below!
When Brad Pitt and Angelina Jolie made an appearance at WSJ Magazine Innovator Awards

Brangelina's romantic gaze caught everyone's attention instantly, and made the fans go 'aww'.

Image credit: Getty Images

When Angelina Jolie and Brad Pitt arrived holding hands at the screening of By The Sea

They looked so much in love when they arrived for the screening of By The Sea hand-in-hand.

Image credit: Getty Images

When Angelina Jolie and Brad Pitt shared a kiss on the red carpet at Cannes film festival

They set the red carpet on fire with that kiss at Cannes film festival, 2011.

Image credit: Getty Images

When Angelina Jolie and Brad Pitt couldn't keep off each other during a movie premiere in LA

The couple couldn't hold back from staying close to each other during By the Sea premiere in LA.

Image credit: Getty Images

When Angelina Jolie and Brad Pitt were had a PDA moment during Oscars

The duo took PDA to a different level during the 2009 Academy Awards.

Image credit: Getty Images

When Brad and Angelina looked insanely love-struck at a movie premiere

The couple gave us this ridiculously romantic moment during the premiere of Inglorious Bastards in 2009.

Image credit: Getty Images

When Brad Pitt and Angelina Jolie sneaked a kiss before a movie premiere

This was one of the most romantic sights for the fans during The Tourist premiere in 2010.

Image credit: Getty Images

When Angelina and Brad got intimate during the premiere of Salt

Brad was even spotted grabbing Angelina from her backside at the premiere.

Image credit: Getty Images

When Angelina Jolie couldn't stop looking at Brad Pitt

Brangelina became the centre of attraction at 2011 Golden Globes with their romantic gazes.

Image credit: Getty Images

When Brad Pitt and Angelina were seen flirting during a movie premiere

The couple was spotted sharing flirty moments during the Paris premiere of Megamind, and it was an 'awwdorable' moment.

Image credit: Getty Images