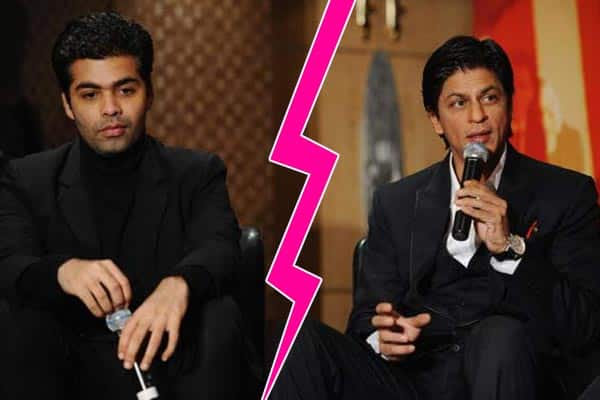 SRK's friendship with KJo is no longer the same and while many find it hard to digest the fact that their dosti has gone kaput, we list down 5 signs that predicted the big fallout was coming sooner than later…
Fallout with Priyanka ?
Karan Johar and Shah Rukh Khan were best buddies until the latter took to Twitter and wrote something unfaltering about the Exotic babe. This happened in 2012 when rumours about Khan and Priyanka being more than just friends did the rounds. A leading tabloid back then quoted PC's friend who defended the actress and also hinted that Johar had been bitching about her. Later, the Dharma head  honcho wrote on Twitter, "Using their hired PR machinery and hiding behind so called friends to get news into tabloids is nothing but spineless and lame." This whole episode didn't go down well with the Chennai Express actor and his friendship with Karan soured.
Best friends with Salman
The same year SRK's best buddy got all friendly with his arch rival Salman Khan. In December 2012, the Kuch Kuch Hota Hai director attended the premiere of Dabangg 2 and was seen bonding big time with the Bhai of Bollywood. He made his presence felt at Sohail Khan's birthday bash as well and bonded with Sallu at the party once again. This surely widened the rift between King Khan and his jigri dost Karan Johar.
Professional panga
Gauri Khan's hubby and KJo last teamed up for My Name Is Khan which released in 2010. The duo since then hasn't worked together. While Johar went on to launch new faces in Bollywood, Shah Rukh decided to work with other filmmakers. In fact, Johar will now be working with Salman and Aamir Khan in his next projects and as for SRK, the superstar has quite a few films lined-up but none with his once-upon-a-time best buddy.
No Koffee with Shah Rukh Khan
This year SRK missed the controversial Koffee couch and that got tongues wagging. That's not all! What really grabbed attention was the fact that the Bhai of Bollywood opened the fourth season of Karan's chit chat show Koffee with Karan. Then we saw Aamir Khan making his debut on the show which only added fuel to the already raging fire.
SRK gets sarcastic
The Bombay Velvet baddie decided to watch FIFA finals this year despite knowing nothing about the game. The KWK host even tweeted, "Am officially pronouncing myself a wannabe…watching the match only because the world is." SRK, who is known for his witty sense of humour, jumped in and tweeted, "It's ok to accept. V all like what's 'happening'. Just so u know Germany in White Argentina in Blue. The round thing is the ball." We know King Khan likes joking around but in this case it seemed sarcasm.