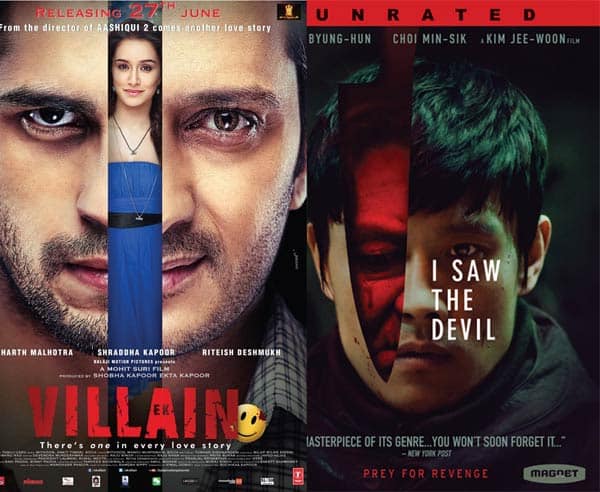 With so many similarities in the plot, we wonder why the filmmaker been in a denial mode all along…
Filmmaker Mohit Suri has always denied that his film Ek Villain is inspired by the Korean film – I Saw The Devil. However, after watching both the films we found five shocking similarities between the two films. I Read on to find out these similarities and let us know if you agree with us.
Storyline: The basic plot of Mohit's Ek Villain and Park Hoon-Jung's I Saw The Devil is same. The psychotic serial killer murders the lead protagonist's lady love. Thus the hero is eventually seeking vengeance. The only difference is that Sidharth Malhotra's character is Ek Villain is a gangster while the protagonist (Lee Byung-hun) in Korean film is an agent in the National Intelligence Service.
Scenes: There is one similar scene in both the films where serial killers (Riteish Deshmukh – Ek Villain and Choi Min-sik – I Saw The Devil) are admitted in the hospital due to some injuries. Both attack a nurse in the hospital only to be saved by the hero of the film.
Turning point: The criminals in both the films are random serial killers. They kill random victims and hence have no idea about why they are being chased by the male protagonist. In both these films it was the killer's friend who helps them identify the real reason to be chased.
Death of the leading heroine: In both these films the heroine gets killed in the first few minutes of the film.
Killing the girl's father: To attract the protagonist's attention, the real villains in both these films targeted the heroine's father.