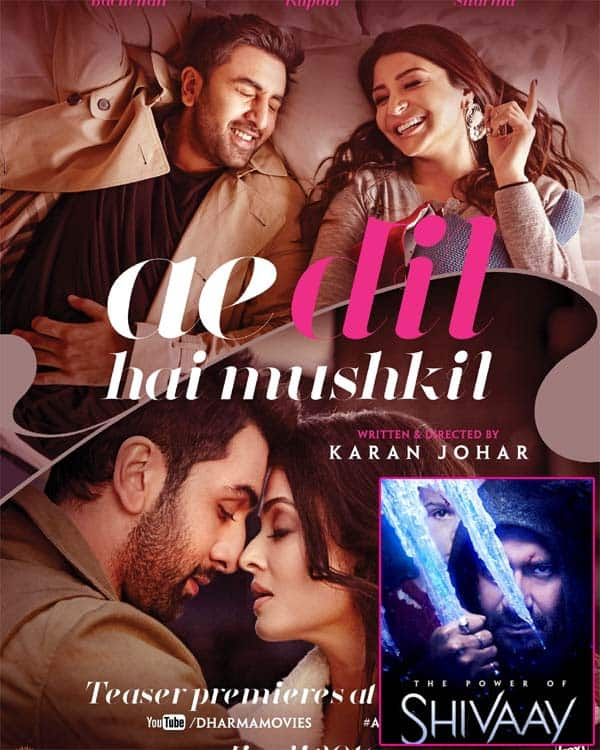 Two mega films are going to be releasing at the box office this Diwali- Karan Johar's Ae Dil Hai Mushkil and Ajay Devgn's Shivaay. Usually when it's a box office clash, actors always maintain that they would be unaffected by it. But Karan and Ajay have been very vocal about the box office war and they are both trying equally hard to reach out to the masses to watch their films. Karan and Ajay are competing very hard for their respective films to do extremely well and it's going to be a rather tough competition this Diwali. Ae Dil Hai Mushkil is a typical Karan Johar film which deals with relationships, love and heartbreak. This time, it's got more intense and interesting as ADHM revolves around unrequited love, while Ajay Devgn's Shivaay is an action thriller. Though Karan and Ajay are at loggerheads and both the films are poles apart from each other, we have somehow managed to find 5 odd similarities between Ae Dil Hai Mushkil and Shivaay. Take a look!
#Its Ajay and Erika's romance and Ranbir and Aishwarya's intimacy!
Ajay Devgn's liplock with his co-star Erika has been much talked about. And now that the song Darkhaast from Shivaay is out, it's on everyone's mind. Ajay will be seen kissing onscreen for the first time and if this newly released track from Shivaay is anything to go by, his chemistry with Erika looks good! On the other hand, we have Ranbir Kapoor and Aishwarya Rai Bachchan romancing in Ae Dil Hai Mushkil. Their onscreen chemistry is breathtaking and ever since the viewers have seen their hot chemistry, it has become one of the main reasons to watch the film.
#KJo and Ajay trying hands at direction after several years
Both KJo and Ajay are directing a film after a gap of several years. Karan's last directed film was Alia Bhatt, Varun Dhawan and Sidharth Malhotra starrer Student of The Year way back in 2012 and Ajay debuted as a director with U Me Aur Hum in 2008. (ALSO READ: Sorry Fawad Khan fans! Karan Johar will not make him a part of Ae Dil Hai Mushkil promotions – here's why!)
#Similar way of shooting the title track
Prior to the release, there was too much hype about the title track of both the films. Each time we hear the ADHM title track, we fall in love with Arijit Singh even more. And Shivaay's title track Bolo Har Har takes you to a different world altogether! The introduction of Ranbir and Ajay in Ae Dil.. and Shivaay respectively are visually very similar. Both have closeup shots of the main lead characters of the film which is yet another similarity between the two movies.
#Two heroines to love
Ae Dil Hai Mushkil has Anushka Sharma and Aishwarya Rai as the lead actresses of the film whereas in Shivaay, we have Erika and Sayyesha Sehgal who will be seen opposite Ajay.
#Picturesque locations

Karan's ADHM has been shot across the exotic locations of London, New York and Paris. Shivaay, on the other hand, has been shot majorly in Bulgaria. The trailer gives us a glimpse of how snow-clad mountains surrounded Ajay as they shot for the film in icy cold temperatures there. Both the movies look visually appealing.
Surprising.. isn't it? With so many similarities between ADHM and Shivaay, we are now confused which one to go for! Tell us guys, are you Team Ae Dil or Team Shivaay?
Ranbir Kapoor and Aishwarya Rai Bachchan's crackling chemistry in the film is undeniable

Image credit: Youtube

This mesmerizing still from Ae Dil Hai Mushkil has got us all excited for the film

Image credit: Youtube

The light-eyed beauty steals our heart with this alluring look

Image credit: Youtube

A still taken just before the kiss between Ranbir and Aishwarya

Image credit: Youtube

Bollywood finds its newest hot couple in Aishwarya and Ranbir

Image credit: Youtube

Ae Dil Hai Mushkil teaser trailer was in fact a beautiful surprise!

Image credit: Youtube

Aishwarya and Ranbir come together for the first time on silver screen

Image credit: Youtube