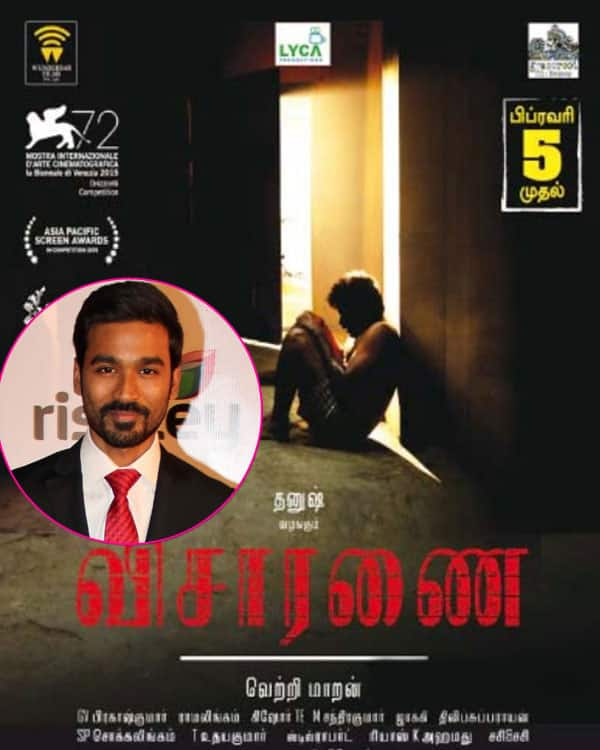 As we all know, Visaranai is India's official entry for Oscars 2017 in the Foreign film category! This film on police brutality has already bagged 3 National Awards. The film is directed by Vetrimaaran and guess who it is produced by? Dhanush's Wunderbar Production! The movie has received accolades before, like at the Venice Film festival. The director himself confirmed this with The Hindu without elaborating further on it. This is big day for Dhanush as well. While his film Thodari hits theatres, he gives a Tamil Industry a reason to be proud too. Of course, Vetrimaaran's script and direction must be given its due credit. This is a big deal for the makers of Visaranai. So what is Visanrai all about? Here's all you need to know about this movie. Also Read; SUPERB! Dhanush's hard-hitting cop drama Visaranai is India's official entry to Oscars!
#This film is based on a novel Lock up written by autorickshaw driver turned writer Chandrakumar. The writer was in a lock up for 13 days and was tortured to confess for a crime he didn't do.
#The film is a hard-hitting, almost violent take on police brutalities, it's about they get innocent people to make confessional statement after resorting to brutal treatment.
#The film was recognised for its sharp direction, sharper writing and the cinematography
#The story is about three Tamil Immigrant who get locked up for a crime they didn't commit and the torture they bear thereafter.
#It also won three honours at the 63rd National Film Award for Best Feature Film in Tamil, National Film Award for Best Supporting Actor for Samuthirakani and National Film Award for Best Editing for Kishore Te.
Here's a glimpse of a review of the movie by IANS:
"In "Visaaranai", men in khaki are bestowed upon with power, which in turn makes them the system and nobody, from the most influential person to a daily wage worker, can escape from its clutches.And within the system, the power ranges from the high-ranking official to the lowest in the hierarchy." Also Read: Visaranai movie review: Vetrimaaran's hard hitting take on Police brutality is a must watch!
The Dhanush-Veetrimaaran combo are coming together for the third time for Vada chennai. The movie is about 30 years in the life of a gangster. Amala Paul is the female lead in this movie. Of course, Dhanush is also producing his father-in-law Rajinikanth's next film with Pa Ranjith. Now that is another dream combo that is finally coming true.