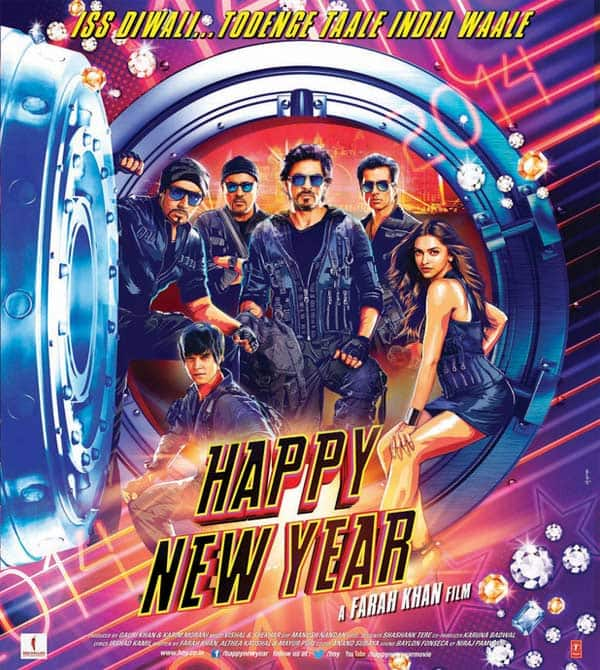 SRK will be seen releasing the song on August 31. Here is what we expect from the highly anticipated number…
Shah Rukh Khan and Deepika Padukone starrer Happy New Year has managed to create waves with its sensational marketing techniques be it the creative and witty cartoons, the availability of the film's trailer on whatsapp or the unique posters. The team is about to go a notch higher with the song Indiawaale which will see it's release on August 31. Here are five things we expect from the number:
SRK + Dippy= Chemistry
Shah Rukh Khan and Deepika Padukone have certainly earned a spot in the "it couples" chart of B-town with their sizzling chemistry; films Om Shanti Om and Chennai Express being an evidence to support the statement. We expect the duo to pull off a similar stint yet again in the upcoming number. We state the obvious, but with SRK and Dippy coming together, there are bound to be some fireworks!
Keep calm and watch em' dance
With Farah Khan being the director of the film and an ace dance choreographer, we are certain the mother of three would have used her creativity in putting forth a grand video alright. We can imagine the cast of the film, giving us some rather snazzy moves as a part of the dance competition they are participating in. We bet Indiawaale would be an extravaganza having a larger than life feel to it, a signature style venture by Ms Khan indeed!
All we need, is a rhythm divine
We expect the number to be an outright knockout with it's swanky beats and a cathy melody. A section of the song which was seen in the trailer of the film, managed to make waves and stands as a highly anticipated one. With Vishal-Shekhar being the music composers for the venture, we bet the duo will create the Dard-e-Disco effect yet again.
They are 'happy' and they know it
Farah Khan's musical numbers often showcase videos possessing a zestful and energetic vibe. With Indiawaale, we expect the filmmaker to put forth a number which successfully highlights the essence of patriotism topped with a positive feel, leaving the viewer entertained yet inspired. Let's just say, we wish to see a happy-go-lucky song in its true sense!
Will the losers emerge as winners? 
We caught a sneak peak of Happy New Year's plot through its trailer. With six losers aiming to rob a bank successfully while competing in a dance championship, we wonder if they would ultimately manage to pull of the tricky task. We would like to see the video showcasing certain robbery sequences, to get a hint of how exactly the team plans on getting their moolah. SRK and Dippy in a hatke avatar, now wouldn't that be tempting to watch?
Well these are our expectations. What are your thoughts BollywoodLifers? Post your comments below!