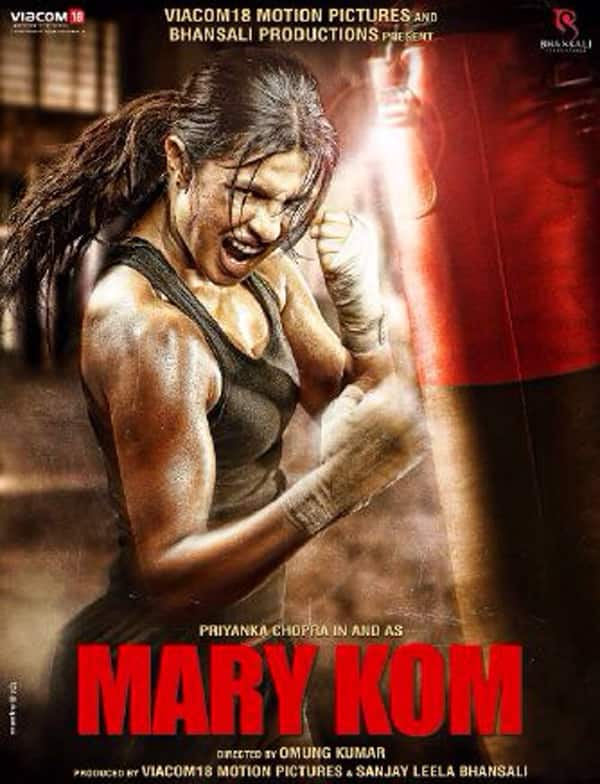 The official trailer of Mary Kom is out. Read on to know our take on the trailer of the biopic…
Priyanka Chopra's upcoming film Mary Kom is one of the most anticipated films of this year. Pee Cee recently took the nation by a storm with her boxer avatar on the poster of the film, which was termed as one of the most stunning transformations a B-town actor has showcased in recent times. The trailer of the Mary Kom bipoic is out and we give you 5 reasons as to why we absolutely loved it:
Punch em' like PeeCe
If there's a B-town beauty who knows how to punch right, it is none other than Priyanka Chopra. This hottie is seen in her raw and rugged avatar, nailing those punches vigor and valor needed. The hottie makes a perfect picture as a an aggressive boxer with a conviction and zeal to achieve her big dreams.
This Manipuri eve cannot be teased
There is a point in the trailer where Priyanka who plays Mary Kom in the biopic, is being eve teased by a chichora lad outside the boxing ring. He is seen whistling at Priyanka who instead of losing her cool, whistles back at him and shuts him up in a second. We surely like the way this sexy boxer sets those notorious natkhats right with her unique style!
Why should boys have all the 'punch?'
We like the way this toughie challenges the boys for a fight in the trailer. "Kyun darta hai kya (Are you scared)? she replies to male boxing star when he states that he does not participate in a fight with girls. The very next second, the Dil Dhadakne Do star is seen taking down the oh-so-mighty boxing champ with her aggressive stints. The underlying message of the trailer is subtle yet evident stating that women cannot be held back to participate in a vigorous sport, merely because the way their gender is perceived in a narrow minded way by the society.
Million Dollar PeeCee
This Exotic singer has emerged as one of the best performers in the industry today. With her memorable stint in Barfi!, one would think it hard to match the standard. But looks like PeeCee is set to bring the magic to table again with her role in Mary Kom. Though a mere sneak peek, her performance nonetheless comes across as powerful and convincing, with her aggressive mannerisms and the fluent Manipuri accent. We wonder if the hottie will outdo herself with this one!
Don't worry, you are safe with her
Indian society follows a common mentality of considering a female "safe' on a lonely road as long she is with a male to protect her. But things are different in PeeCee's world. A scene in the trailer shows the actor ensuring her male partner that he is safe with her, when the two are seen stuck in the middle of dark forest. "Don't worry, tu mere saath safe hai( Don't worry, you are safe with me, she tells him amidst a dark forest. This particular one liner sets aside the typical notions followed by people and is refreshing to watch.
So do you agree with our crtique? Post your comments below!