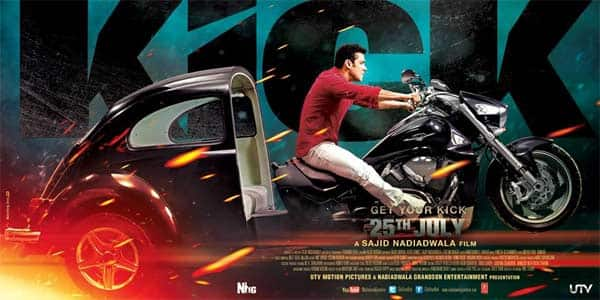 We saw the movie and these are some of our favourite moments from the film..
Kick opens at the box-office today (July 25) and is sure to create a rage at the ticket windows. We got a chance to watch the movie early and have picked out 5 favourite moments from the film from you.
Dhamakedaar entry
This has to be Salman's most lavishly shot entry scene. Right from his styling (one lucky fan got a chance to wear the outfit on BollywoodLife) to the way Ayananka Bose has shot the scene everything looks spectacular. The shimmering gold confetti and Salman looking like a million bucks made this look so so good!
Jacqueline's solo dance act
Jumme Ki Raat is one of the highlights of the film, but what is a bigger attraction is Jacqueline's minute long solo dance act in the song. The makers have smartly kept this away from the audience and when the moment comes you can't help but be in awe of her!
Rajat Arora's dialogues
The writing is good. Especially the dialogues written by Rajat Arora. Some of the lines have already become popular. Surprisingly the best lines are not with Salman but Nawaz who steals the thunder in most of the scenes. His casting was a smart idea.
Lavish production values
Sajid Nadiadwala has gone all out to spend as much money on Kick as possible. As a result every frame looks rich and grand. The special effects, stunts, CGI all of it is on level with some Hollywood stuff we have seen. The songs have also been shot beautifully, especially Hangover and Yaar Na Miley.
Nargis Fakhri's sizzling song
The Yaar Na Miley track as an introductory part of the Devil look. While the song is already popular, it has been shot amazingly on a dark and eerire set. The Devil element comes out really well. This song is also shot on Jacqueline in the end credits, but we preferred the Nargis version over it!
Read the full Kick review: Salman Khan's film delivers more than your expectation