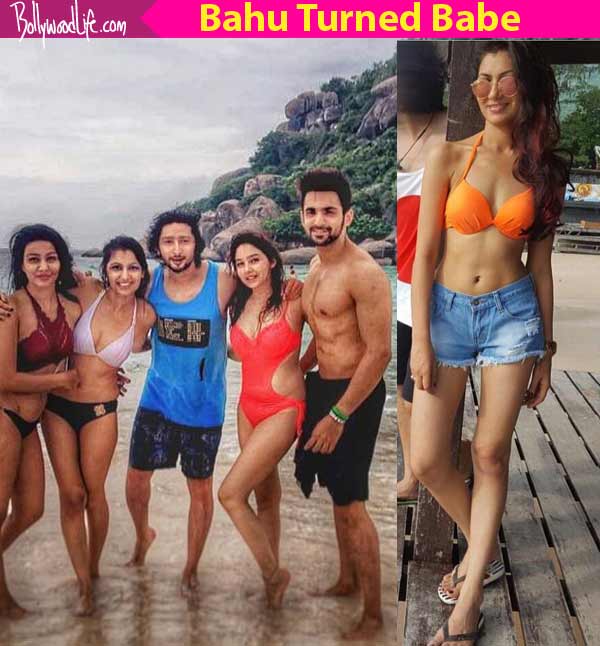 Sriti Jha, who plays the lead role in Kumkum Bhagya, is breaking the internet and how. Her bikini pictures from her recent holiday have gone viral and people are finding it difficult to digest the fact that it's the same girl who plays Pragya and we don't blame them. Sriti has always had a goody-too-shoes image, be it because of her onscreen character of a sanskari patni or because of her reclusive nature in real life. Her fans had begun to believe that she, in real life too, is a sati savitri who isn't much into partying or wearing western outfits. But, her recent pictures prove that she is totally opposite of Pragya. And there is nothing wrong about it. I mean actresses also deserve their share of fun.
And let us tell you that this is not the first time that she donned a bikini. She has done that in the past too. And this is what she had to say about it – "Dont let them make demi gods out of you… A woman should wear whatever she wants. A woman should say whatever she wants.A woman is whatever the hell SHE wants to be. Gender specific rules are stupid and redundant , do not let them define you… define yourself- be an individual. #genderequality." Well said, Sriti!
A photo posted by Sriti Jha (@itisriti) on
Sriti was also in news for vacationing with rumoured boyfriend Kunal Karan Kapoor. The couple ringed in New Years in Thailand with Kumkum Bhagya actors – Leena Jumani, Arjit Taneja and Mrunal Thakur. Stay tuned to BollywoodLife for more updates on Sriti.