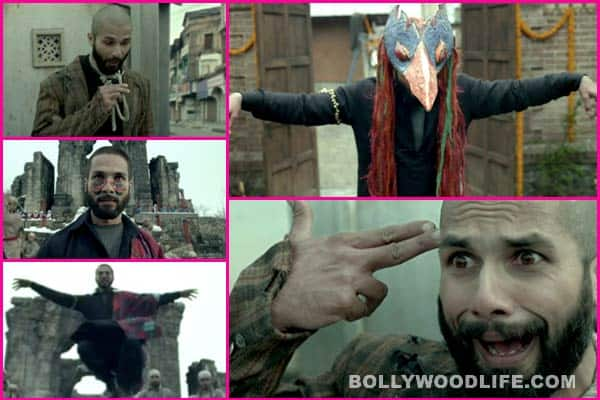 Vishal Bharadwaj's take on Hamlet left us stumped ! Read on to know why..
To see or not to see! That's the question that plays on our mind after watching Vishal Bhardwaj's first trailer for his adaptation of Hamlet. For those who haven't read the Shakespeare classic, the Shahid Kapoor film is a revenge drama set in Kashmir. After watching the trailer which has the VB stamp on it with panoramic shots, tight close ups, strange dialogues and a haunting tune playing in the background, we spotted five WTF moments that stupefied us like a Harry Potter charm…
Shahid the tribal warrior?
The first WTF moment came closer to the minute mark where we watch a close up of Shahid with strange painting marks on his face. Is this his version of a Masai Mara warrior ? We don't know, and neither do you!
Crouching Shahid, Hidden Bhardwaj
Yes he can fly, jump and show off some smooth aerodynamic moves! Shahid takes to the air and flies mid way in a tribute to Kung Fu Panda or Ang Lee's Crouching Tiger Hidden Dragon. We really want to know if Haider has some super powers, Krrish you better watch out!
 Angry Bird!
Mid way through the trailer we meet Shahid the angry bird! Perhaps that explains the mid air flying in the earlier scene ? With a giant beak and some strange dressing over his head, Shahid resembles an angry bird.
Notes to Myself
Towards the end of the promo we are told that Haider has lost his marbles and has started mumbling to himself. A bald Shahid with a tape recorder hanging around his neck is having conversations with himself. A little self talk never harmed anyone, eh ?
Bang Bang!
A fitting end to the trailer, we wonder if this is Shahid's most natural expression in the film ! We hope he wasn't referencing to his experience of working with his director friend Vishal Bharadwaj!