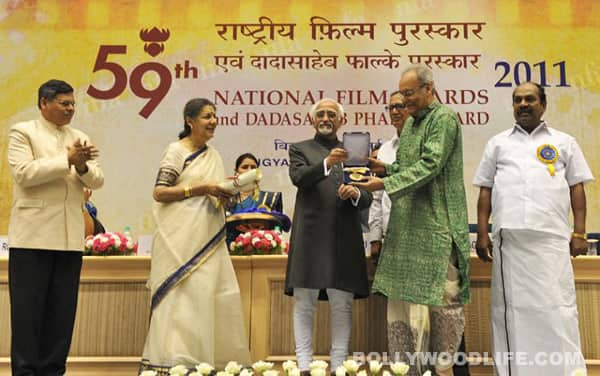 skip advertisement
What's the Vice of the Vice President? Being a politician, Shri M Hamid Ansari, is condemned to being a boring person, but at least he could have sparked some life into his address while talking about Indian cinema at the 59th National Film Awards ceremony
Since Cineswami didn't want to disappoint fans, the VIP ringside invite was accepted and the long trek to Delhi was made. Ansari, in his interminable speech, said, "Films play a significant role in portraying the linguistic and regional diversity of our culture. Indian cinema has successfully adapted traditional Indian narrative and oral traditions to the requirements of technology and formats of new media. Our films have become ambassadors of our culture, tradition and society. They foster people-to-people relations and promote our image and interests that have enduring significance. Indian commercial cinema forms a principal element of our culture and impacts the lives of the people."
While deathly dull, it is sobering to note the Indian Vice President's last sentence. Does this mean that it is now acceptable that we celebrate a Munni, a Sheila or a Chameli as a 'principal element' of our culture? And how does it impact the lives of people? That's easy to answer. Little children gyrate to these songs like adults of the oldest profession at New Year parties across the country. And their parents, who morally and mentally, if not physically, belong to the oldest profession, have no qualms in sending their tiny tots to strut their stuff on national television in dance reality shows. And, Cineswami wonders how our films 'foster people-to-people relations'. Does cinema directly lead to an exchange of bodily fluids? Shades of paraphrased Sinatra where strangers in the cinematic night exchange glances and more, perhaps.
Ansari also took some time out to wax eloquent about the other cinemas of India, saying that the selection of two films in regional languages as the Best Feature Films (Deool and Byari) was an achievement for regional film industry. That's a very condescending statement. It's hardly an achievement to make better films than Bollywood. Ansari did make one valid point though when he said, "It is an under-appreciated fact that over 80 per cent of the films certified for public exhibition are regional films." Bravo sir. And that's the truth. Out of the 1,255 films certified by the CBFC in 2011, only 206 were Bollywood. That's around 16 percent of the country's film output. Yet, the mesmerising power of Bollywood is such that people are mesmerised by Aishwarya Rai Bachchan's double chin, Kareena Kapoor's size zero, Amitabh Bachchan's gastric system and petty people who have no idea what the term 'skirmishes' means, engage in that very activity over who is more popular – Shahrukh Khan or Salman Khan.
All these people have never heard of and being the young, defiant, modern India of today will not want to hear of this year's Dadasaheb Phalke Award-winner Soumitra Chatterjee, whose partnership with Satyajit Ray "should be counted as a memorable director-actor combination in the history of cinema," as Ansari correctly says. The response from our great, educated masses is likely to be – "Phalke? Who? Friend of yours?" Time for a Ray ban.
Photos: Government of India