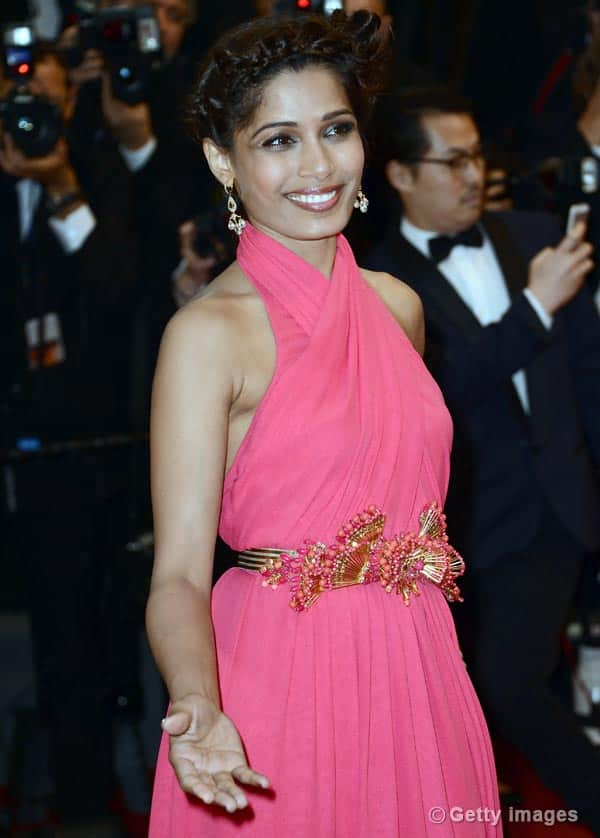 skip advertisement
The fest commenced on a star-studded note as Sonam appeared in a lovely saree and Vidya looked nothing less than a princess
While Sonam Kapoor opted for a gorgeous Anamika Khanna traditional ensemble, Vidya Balan stuck to her favourite designer Sabyasachi Mukherjee at the screening of The Great Gatsby at the 66th International Cannes Film Festival. Amitabh Bachchan really stood out in a shiny sequin studded blazer, posing along with Titanic dude Leonardo Dicaprio. Big B – although slightly over the top – looked dapper in his funky-classy avatar. If you have noticed, he loves to make a youthful statement, be it wearing a blood red jacket in Bbuddah Hoga Terra Baap to appearing in a cool striped coat at the Cannes, he is unpredictable style-wise.
Mallika Sherawat's look disappointed us completely. She chose to play it boringly safe in a gold beaded full-length gown. The coral lipstick isn't exactly going with that ensemble and Sherawat's 'I am going to shock you with my style' kinda attitude is missing. Freida Pinto looked sophisticated as usual in a pick Gucci gown. We particularly like that intricate gold belt – it gives an ethnic touch to her western style and the hint of shimmer on her eyes is gorgeous.
Sonam looked like an absolute diva as she wore a long jacket upon the virgin white lace saree. The pearl nathni is a great choice – a great way to add tadka to the look. And Ms Balan – who was looking all toned yesterday – is back to looking like her plump self. Although she looked nice ,what's with covering the head with a pallu? Isn't that a li'l too in your face, trying to hammer home the idea that 'I am an Indian'. But she posed with the esteemed jury and that honestly is a matter of great pride for us.