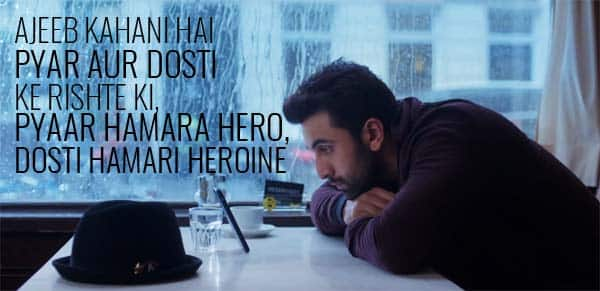 Ae Dil Hai Mushkil's trailer is finally out and we can't stop raving about it. The trailer was a refreshing change from the movie's songs which speak all about heartbreaks and one sided love. Throughout the trailer we could see Ranbir and Anushka's friendship, their fondness for each other and the intensity between Ranbir and Aishwarya. All the confusion related to this movie's plot will be answered only when the movie releases in Diwali on October 28. Also Read: Salman Khan is totally smitten by Aishwarya's hot avatar in Ae Dil Hai Mushkil.
However we don't know if you guys noticed it or not but Karan Johar has set a new trend with this movie and we hope he continues it in future. He has made sure to include one dialogue from his movie in every outing; be it teaser, title track or the trailer. Yes you may realise this fact now that we have highlighted it. All the dialogues are apt and give us a hint what the plot shall be about. Also Read: 3 reasons why Aishwarya Rai Bachchan is a sight to behold in Bulleya.
The movie from what we guess will have loads of such beautiful dialogues what we have already heard in the trailer and teaser. Be it Anushka's dialogue about 'Mohabbat mei junoon hai, Dosti mein sukoon hai'or Aishwarya's dialogue of ,Mein kisiki jaroorat nahi khwaish banna chahti hoon, every character reveals their side of story and what part will they be playing in it. Anushka , Aishwarya, Ranbir and Fawad, all characters have till date been shown with a prominent dialogue. Seems like that's the director's way to introduce his key characters and their role in the movie. Well we did like his way and hope more such directors come forward with innovative concepts.
Ae Dil Hai Mushkil is all about one sided love, friendship and heart break. The movie which will show Aishwarya and Ranbir sharing some passionate intimate scenes and passion for each other is already the hot topic in the industry and for all the good reasons. We now wait to see what impact will it have at the  box office when it clashes with Ajay Devgn's Shivaay. Both movies have their own strong points and it will be interesting to see which one fares among them.
Till then just incase you have missed, here are the seven dialogues from this movie which not only impressed us but even made that particular scene stand out.