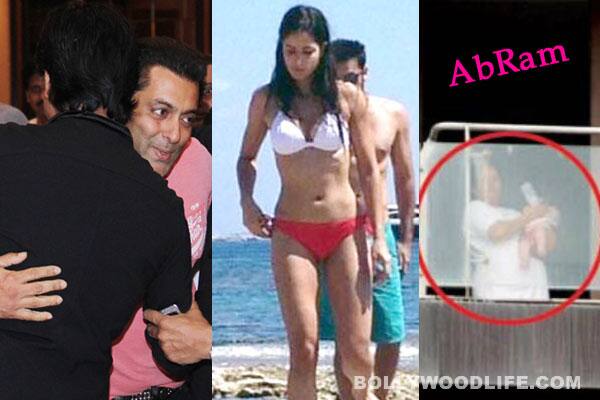 skip advertisement
Salman-Ranbir-Katrina-AbRam
As 2013 comes to an end and we get all set to welcome in 2014, we take a look at a few photos that truly defined the year that was…
You will agree with us when we say that 2013 has been one heckuva eventful year for dishy dudes and sexy babes from B-town. There have been some moments that have shocked us, and others that made us go LOL. So be it Ranbir Kapoor-Katrina Kaif's romantic escapade to Ibiza or Shahrukh Khan-Salman Khan's huggy moment at an iftar party, 2013 was an interesting year indeed. Let's go back and take a look at some images from 2013 that made us cry, gasp, laugh and everything else.
Shahrukh and Salman's hug – These two turned foes from friends at Katrina's birthday party around five years ago. Things have not been good between the two since then, but it was quite a moment when the warring Khans hugged each other at an iftar party, wasn't it?
Ranbir and Katrina's romantic escapade – We already knew that the two were in love with each other, but they never really came out in the open and talked about it. The only thing that emerged was pictures of their romantic escapade to Ibiza in which we see the lovebirds having a gala time on a rather rocky beach. But what was with Katrina in that unmatched red and white bikini?
Ranveer Singh kisses Deepika Padukone – Same is the case with these two. They became close to each other during the shoot of Goliyon Ki Raasleela Ram-Leela and since then they have been madly in love with each other… or so we hear. And they made it quite evident when Ranveer planted a wild kiss on Deepika's cheek at a club in Dubai. Oops!
When Aamir Khan peeked under Katrina's skirt – Katrina had a bit of a wardrobe malfunction at the launch of the Dhoom machale song from Dhoom:3. The lady chose to wear a dangerously short skirt – mercifully with matching undies, we all saw – that misbehaved at that 'oops' moment. But what was interesting that while Katrina smiled through it, Aamir was caught staring at her legs. Naughty boy, Aamir!
AbRam comes home – 2013 was a very special year for King Khan as he welcomed his son AbRam into his life. Shahrukh announced that he and his wife Gauri had welcomed a child via surrogacy. However, controversy erupted when a social activist accused the husband-wife jodi of have a sex determination test done because they wanted a son. However, everything was sorted out and a picture of the baby being fed at a window in Mannat vent viral on the Internet. That was the first time the world saw Shahrukh's new son.
Shahrukh and Aamir shared a ride – Though things have not been good between Salman and Shahrukh for years, they are still friends, at some level. Cordial relations between the two mega-stars shone bright when Aamir and Shahrukh shared a cab in Delhi recently. Nice, no?
When peeps from Hollywood met folks from Bollywood – Various filmmakers, actors and pop artists swooped into India this year, including famous names like Robert De Niro, Snoop Dogg, Steven Speilberg and Sharon Stone. These Hollywood stars were welcomed by luminaries from Bollywood including Ranbir Kapoor, Aishwarya Rai Bachchan, Amitabh Bachchan and more.