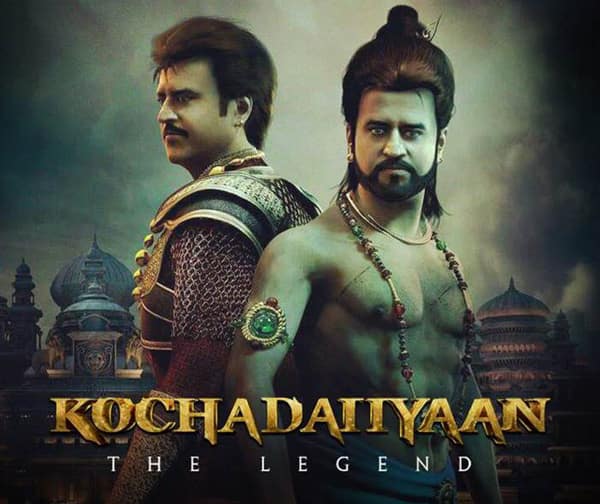 That Thalaivaa has joined Twitter in a bid to promote his films and connect with his fans has become national news, but here's some dope about the movie, it's stars and debutant director that not many would be aware of…
Rajinikanth's much delayed Kochadaiiyaan will finally hit the theatres on May 9 this year. The film marks the Superstar's daughter, Soundarya Ashwin's debut as a director. Also seen will be Bollywood's reigning queen of 2013 Deepika Padukone in an animated avatar. Here are some lesser known facts about Kochadaiiyaan a film about a King in an animated avatar made at a whopping budget that took over two years and had almost 200 odd people working on it.
While Tiger Shroff's actor dad Jackie is all set to play the baddie in this big budget animated film, the role was designed keeping Amrish Puri in mind. However the Rangeela actor was roped in.
Kochadaiiyan is set to release in 6 Indian languages including Tamil, Hindi, Telugu and even Bhojpuri. That's not it, considering Rajinikanth's popularity in Japan the film has also been dubbed in Japanese and Spanish languages.
While the makers have openly declared that this movie is no Adventures of Tin Tin or then Avatar, the film's highlight is that Late actor comedian Nagesh was brought to brought to life using motion capture technology. Also other stalwarts like PS Veerapa will be seen in the movie
Deepika Padukone's Tamil debut got her so excited that she agreed to sign the dotted line and work opposite Rajnikanth without even reading the script or hearing about her role.
Soundarya Rajnikanth Ashwin is yet to mark her directorial debut, however the star's daughter was recently honoured with the NDTV Indian of the Year – Technical Innovation in a Film award.
Rajnikanth at 63 was awkward romancing Deepika Padukone, who is just 28-years-old before his director daughter Soundarya. The actor got nervous that his daughter was closely observing, calling the cuts.
While many suggest that the actor;s social media move is a part of the film's promotions, the makers have used innovative ways to connect with audience including the launch of a game – Kochadaiiyaan The Legend Reign of Arrows in the Windows Phone Store.