Yogen Shah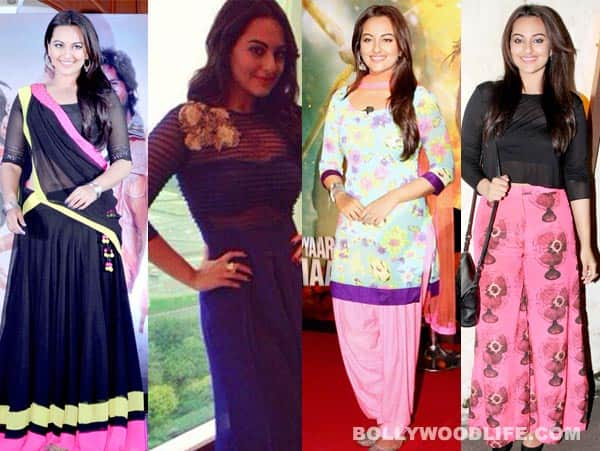 skip advertisement
While the Bullett Raja actor's film has been received well by critics, we keep hoping that she will impress the fashion police some day
If Sonakshi Sinha repeats her fashion disasters over and over again like she does, the fashion police will arrest her. The Bullett Raja actor is never lashed by movie critics, come what may, since the gal can act. But she almost never escapes the eagle-eyed arbiters of fashion and is usually panned for her style sense. Here are seven reasons why we think Sonakshi needs a makeover…or at least a new stylist.
Sona has a heavy body and she's quite proud of it. So much so that she has no hesitation wearing clothes that just aren't suited to her body type that is extremely voluptuous. During the recent celebration of her new film R…Rajkumar, Sonakshi was seen in a pair of fan-print palazzo pants teamed with a black crop top. The high-waisted palazzos made her look broader than she is, instead of accentuating her curves.
Sonakshi's love for black is well known to all her friends and fans. Be it a lace dress, a plain frock or an embellished saree, Sona has flaunted black in every which way. At an awards function the Dabangg star wore a black dress with a gold print that made her look like an Egyptian pharaoh in dire need of exercise!
The Bullett Raja actor has been spotted in lace dresses quite often. And while the pattern often makes its wearer look wide, she carried the look quite well. That could be 'coz of the sideswept hair – it suits her better than the middle part style which just makes her look much older than she actually is.
At an awards function Sonakshi wore a blue off-shoulder gown. When we first looked at her, we thought it was Huma Qureshi in Ek Thi Daayan…seriously! After all, during the promotions of R…Rajkumar Sonakshi wore a variation on a Riddhi Mehra jumpsuit that was first flaunted by Huma. The sheer fabric on the upper body and that bra-thing Sona chose to wear underneath made her look bulkier than she ever could be! And we can't get over her look at a recent store launch – she had chosen a beige V-necked dress that ended just above her knees. We know that actors love flaunting their legs, but that makes sense only if they're well-toned, hai na?
Sona not only has a very Indian body, but is a true desi beauty – so if she goes ethnic, she should look beautiful. Unfortunately, that's not always the case. Recently she was spotted in a lime green saree with a yellow blouse. Some variation on the monochromatic and monotone, please! Girl, you are 26 and not an old lady! But in a black half-saree with a pink and yellow border, she rocked. And made up for that thumbs up with a shocking thumbs down in a printed salwar suit – the colours, the fit and the hair…no, no, no!
Sonakshi has more fashion disasters to her name than any other actor of her generation today, hit or flop. But she can impress, as she did in a vertical striped black and white outfit; the length of the dress was perfect and she looked really sexy. A pretty blue maxi dress, smartly teamed with a white jacket made her a visual delight.
If she can keep the pluses going and delete the minuses, Sonakshi's name will be cleared from the fashion paux pas blacklist. Don't you agree, BollywoodLifers?