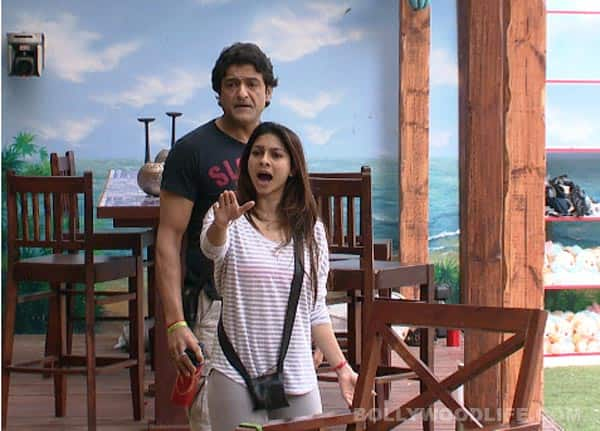 skip advertisement
Tanisha-during-an-argument
The two lovers from Bigg Boss 7 have taken their affair de coeur to another level, but is marriage on the cards? Or will this love story have some twists and turns in true Bollywood style?
Armaan Kohli and Tanishaa Mukherji might have exchanged the rings according to reports, but it seems their journey was not an easy one. These two lovebirds jumped, wriggled and crossed a lot of hurdles to be with each other.
Armaan-Tanishaa love story started on Bigg Boss 7. Cupid's arrow struck the two thick friends inside the glass-walled house and the two became soul mates from being good friends. The couple came under the media scanner for their growing closeness. They liked and disliked the same people in the house and were always stuck in one group, thus being with each other until the very end. The very-much-in-love couple stuck together despite warnings from BB7 host Salman Khan.
But then as they say, what's love that has no spark, right? Armaan's hot headed nature started creating problems for the Mukherji gal. He was screaming mad at her (he did that a lot and to everyone around) He even asked her to get lost and never talk to him. But, Tanishaa begged him not to misunderstand her and stayed by his side. Kajol's sister got a lot of flak for being Mr Kohli's punching bag, doormat and what not. Tanishaa didn't care about what people had to say. She instead chose to stay with him. Saccha pyaar, we must say.
And if animosity from inmates wasn't enough, her closeness with and ex-Bollywood actor did not please her mother Tanuja and sister Kajol as reports suggested that Ms Mukherji's mother and sister tried their best to get their little princess out of the house of horrors. Tanuja was not ready to accept her beti's love, which was quite evident when the veteran actor gave her daughter's lover a cold shoulder at the BB7 Grand Finale. Mr Kohli touched his to be mom-in-law's feet only to get a lukewarm response. But, looks like Tanishaa somehow managed to convince her mommy dearest. The couple along with Tanuja celebrated New Year's eve in Lonavala, in fact pictures of the hone waala damaad went on to make headlines. That's not it, the couple then was spotted at Dubai hand-in-hand, Tan flew all the way from Mumbai to encourage her beau during the match. Later, this jodi was also spotted at the Colors Annual Bash and Lakme Fashion Week. However, they created buzz when they took a trip to Vaishno Devi recently, raising suspicion about an impending marriage.
While Tanuja has sort of accepted Armaan, looks like Tanisha's sister Kajol is not ready to welcome the man to the family. The Fanaa actor recently made an appearance on Karan Johar's popular chat show, Koffee with Karan, where she was chose not to speak about Armaan. But, looks like Baazigar heroine's baby sister is sure about her future with Armaan, for she chose to celebrate Holi with her lover at his Juhu residence.
Tanishaa-Armaan's love story is not ordinary one, ask us why? This couple was haunted by ex-files (Armaan's ex-girlfriend Tanya Kapoor) inside the Bigg Boss house, taunted by Sallu miyaan, ridiculed by fellow contestants and strongly opposed by the Mukherji family. Despite all of this, the couple came out strong and might soon get hitched.
Keep watching this space for more news on Armaan and Tanisha love story.