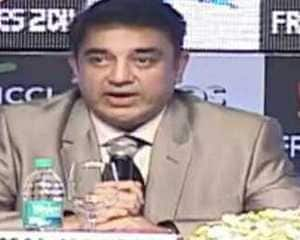 The actor spoke about the 'star system' in Indian cinema. Read on…
Kamal Haasan took part in a panel discussion on globalising Indian films at FICCI FRAMES 2011. The talk veered towards the 'star system' and it was ironic to see a superstar talk about films in India getting mileage only due to the star names attached.
But of course, he spoke as a producer. In the end, 'content is king' is all that he was saying. In films, languages don't matter, said Kamal. He gave the example of his own film Pushpak, which had the audience in gales of laughter. For those born after 2000, Pushpak is a 1987 silent film – the best that India has produced till date in the non-silent era. It was heartening to hear Kamal say 'Content will humble the stars'. This from a star actor who is often accused of focussing more on his role and character than on the film itself! Case in point is Dasavathaaram, his magnum opus, a big-budget film that did not go down well with his detractors and huge fan base alike. Kamal played 10 different roles in the film, even turning up as George W. Bush in one scene and a grandmom in another! And, as the cliché goes, too much of anything was indeed bad. Well, we do hope Kamal too is 'humbled' by content in his next film, which is titled Vishwaroopam (you read it here first). The name sounds like he's gonna don many avatars again. Oh, no! Wonder where that will leave Sonakshi Sinha, who is starring with him in this one!