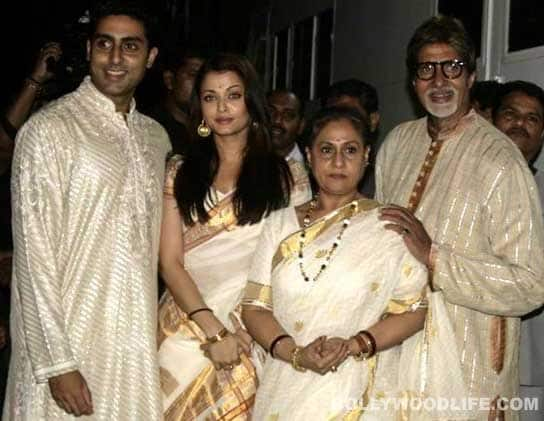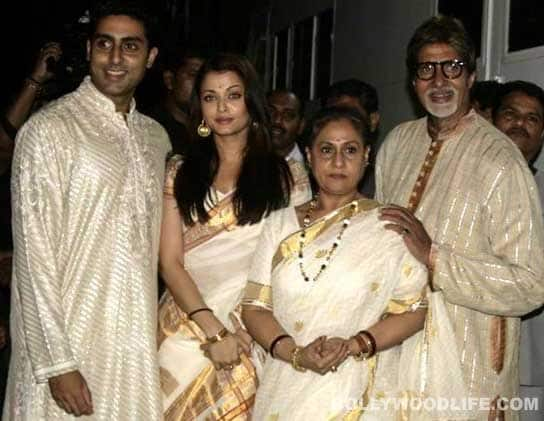 Fans and friends of Bachchans share their happiness on the social networking site
It could be a first in Bollywood, as Pritish Nandy tweeted: "Nice to see Breaking News on twitter. @SrBachchan has set a new trend." Big B is the first proud grandfather in Bollywood who announced it to the world via the microblogging site. Even Abhishek hasn't mentioned it on his Twitter page yet; perhaps he's kinda distracted for now…and we sure don't blame him! After all, joy has found a new avatar in his life, with a brand new mini-me (or perhaps mini-wifey) expected in a few months. Since Sr B's first mention of Aishwarya's pregnancy on the site, his fans and friends in the industry have been flooding the Bachchan family with good wishes galore. Here are some you might like to read:
Ram Gopal Varma – @RGVzoomin: I worship beautiful women nd I hate to see them evr bcm mothers nd in case of aishwarya since she's the most beautiful I hate
Shahrukh Khan – "@SrBachchan …sir mubarak ho…phir se Dada ho gaya hum sab ka Baap. Congratulations sir and all love for the beautiful couple."
Star News Live (Salman Khan) – "I wish Abhishek and Aishwarya make a cricket team, says Salman Khan"
Deepika Padukone – "@juniorbachchan,Aishwarya, @SrBachchan,Jaya aunty and Aishwarya's parents…CONGRATULATIONS!!!lots of love…X"
Farhan Akhtar – "@SrBachchan Congratulations Amit uncle and Jaya aunty. Much love as always."
Genelia D'souza – "@juniorbachchan congratulations ab,, super super happy 4 Aish n u,, one things 4sure d kid vl b one hell of a good lookin kid ☺ congrats agn"
R Madhavan – "@SrBachchan ohhh.. Sooooo Happy for you sir.. The legend continues..Love to the whole family."
Tarun Mansukhani – "@juniorbachchan… Congrats AB… So happy for you and ash! Loads of love and a big big hug!!! :)"
Sujoy Ghosh – "@juniorbachchan pitaaaaJiiiiiiiiiii .. see the scream had some effect :)"
Priyanka Chopra – CONGRATS SIR @SrBachchan and @juniorbachchan ..awesome news!! lets make way for the legacy to go forward……"
Sunidhi Chauhan – "@SrBachchan CONGRATULATIONS uncle :)"
Kamaal R Khan – "@juniorbachchan Congratulation to you and your family. Great news bro."
Koel Purie – "@SrBachchan Wow!! That is wonderful news. @juniorbachchan and Ash will hv beautiful children no doubt."
Neil Nitin Mukesh – "Amazing! Congrats soon to be dadujaan! @SrBachchan and big bro @juniorbachchan & Ash bhahi ! love n happiness to u always ! Yipeeee !!:D :)"
Jackky Bhagnani – "@SrBachchan @juniorbachchan congratulationss to d whole family"
Riteish Deshmukh – "@SrBachchan Congratttttuuulationnnnnnssssssssssss- superrrrr superrrrrr happppppyyyyyyyyyyyyyyy"
Shekhar Ravjiani – "Super happy for @juniorbachchan, Ash,@SrBachchan and jayaji. God bless them with loads and loads of happiness."
Vishal Dadlani – "THRILLED for @juniorbachchan, Ash, @SrBachchan and Mrs. B. Some of the most wonderful people I know! God bless you all, and the newest addition to the family."
Shahana Goswami – "Best wishes to Aishwarya and @juniorbachchan . Very happy for them both! :)"
We are still waiting for what Vivek Oberoi would tweet.