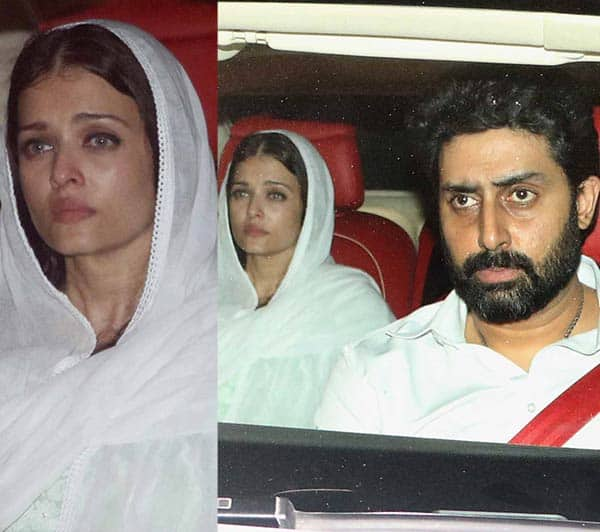 Aishwarya Rai Bachchan lost her father yesterday. He was ailing since a few days now and breathed his last on Saturday. Shah Rukh Khan, Amitabh Bachchan, Abhishek Bachchan, Sanjay Leela Bhansali and others attended her father's funeral. Everyone was in a sombre mood but what broke our heart was to see Aishwarya. The woman was clearly trying to control her tears but eyes don't lie. They are bloodshot! How we wish we could reach out to her and hug her. Comfort her in these trying times. Everybody is mourning the loss, but it is Ash who will feel it more because she has always been very close to her father. (Also read: In pics: Aishwarya Rai Bachchan and her father Krishnaraj Rai's candid moments)
We have a few pictures of her along with her husband Abhishek Bachchan in the car where the lady is teary eyed. We can only imagine what she must be feeling right now. When her father was battling for life in the ICU, she was by his side all the time. A spokesperson had informed, "He (Krishnaraj Rai) has been in hospital for the nearly two weeks. Aishwarya is taking care of him despite her being alone as Abhishek was in New York for work. He just got back. Recently at Aaradhya's sports day, Aishwarya was seen cheering for the kids and her own daughter too. But simultaneously she was also keeping a tab on her dad's health." Another source had said, "Aishwarya Rai Bachchan has been there constantly and managing Aaradhya and her father in hospital. Abhishek Bachchan too is present in the hospital and is being with Aishwarya throughout." Check out the pictures right here.
According to reports, doctors told media, "He was suffering from lymphoma cancer which spread to his brain. Today (Saturday) somewhere around 4 pm he passed away. He was admitted 3 weeks back." Our prayers are with the Bachchans and God gives them the strength to tide over this massive loss.