Aamir 'item boy' Khan: is he fit or fat?
BollywoodLife
Last Updated: 12.20 PM IST 07.12.2011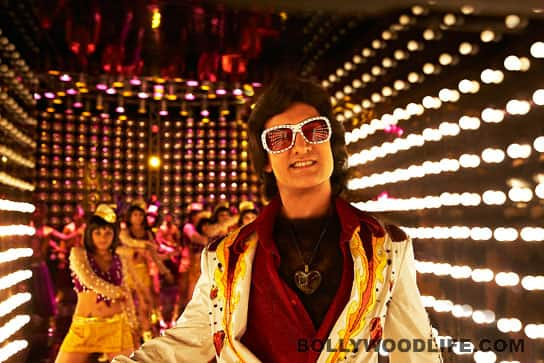 Is maamujaan in item-boy shape? We definitely don't think so!
Meet the Disco Fighter, the new item…err…boy on the block. Aamir Khan is now adding a little extra tadka to nephew Imran's new film Delhi Belly, by doing a full-colour, full-on, full-timepass item number. He shakes his hips, twirls his arms, waggles his head and steps madly to the disco beat, outdoing every icon in the Saturday Night Fever ishtyle of dance, from John Travolta himself to our very own desi versions, Mithun Chakraborty, Jeetendra, Govinda, Rishi Kapoor and even Amitabh Bachchan in Saara zamaana. There were even flashes of Elvis Presley happily shaking his pelvis in the song, which is catchy in its offbeat way, matching the Ram Sampath sounds in the film. We also had nightmarish visions of Akshay Kumar doing his retro thing in Action Replayy, bell bottoms, shiny sunglasses and psychedelic lights competing for attention. And as Aamir paid his tributes to the big names in disco, we shuddered as we watched him swivel, our fingers crossed that he would not dislocate a hip or strangle a dancer in the chorus with his long scarf or, worse, blind the audience with the sparkles and shine and glitz. Along the way, we could not help feeling that perhaps the star should start considering acting his age, instead of playing a college student or a young lover or…ugh…a disco king. Most of all, ain't Aamir getting a little tubby in the middle, too much so for the song and dance routines that he is still doing?
First Published: 9.25 AM IST 06.24.2011