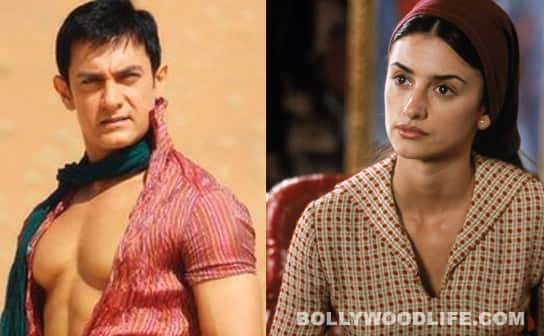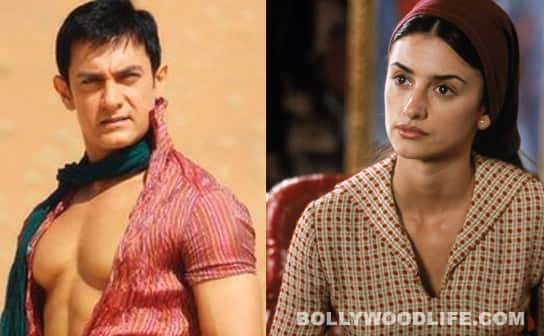 Will Penelope Cruz, Natalie Portman or Eva Longoria say 'yes' to him?
Well, well, well. Looks like our perfectionist hero Aamir Khan is not averse to chasing a bit of Hollywood skirt. Not satisfied with the talent India has to offer the perfect Khan has cast his roving eye westward for Dhoom:3, if Cineswami's mole in Yash Raj Films can be believed. Aamir, as you gentle folk know, is most likely playing a bald gymnastic thief in the film and will definitely overshadow his hapless co-stars.
The film will reunite the desperately in need of a hit Abhishek Bachchan and the thankfully going to retire Uday Chopra. Katrina Kaif was due to be the heroine, but she balked at donning a bikini for a couple of racy scenes in the script. Looks like the lady has grown herself a set of morals after flaunting her assets in her debut film Boom. She even went to the extent of blocking the DVD re-release with a couple of hot deleted scenes in it that the director Kaizad Gustad had planned. But if you say no to Yash Raj, they say no right back and the hunt was on for a new face that wouldn't mind getting her kit off for the caressing camera. Yash Raj even announced an India-wide talent hunt to unearth the newest Bollywood babe.
But then the thinking changed and Yash Raj and Aamir decided to up the ante and get a foreign aunty. Go West, young man was the command to director Vijay Krishna Acharya, who for reasons best known to himself calls himself Rocky. The rocky road to Dhoom:3's heroine is now paved with Hollywood intentions. The first name on the list was Penelope Cruz, followed by Natalie Portman, Oscar winners both. Desperate Housewife Eva Longoria's name also cropped up in discussions. It remains to be seen if any of them agree, and if they do, whether Yash Raj can afford their fees.
Meanwhile, looks like Akshay Kumar will explore every avenue possible in search of that elusive hit. The once successful actor (the term is used loosely here) apparently liked the play Krishan vs Kanhaiya so much that he snapped up the film rights to it. The play revolves around an atheist antique shop owner who eventually finds religion when his store is reduced to rubble by an earthquake. Akshay, of course, will play the blue-skinned god. Akshay and Paresh Rawal will jointly produce the film.
Our good friends at Eros International seem to be hell bent upon global domination. They will release Rajinikanth's Endhiran aka Robot in Japan. They are on a safe wicket there because India's biggest Superstar (eat your heart out Khans, Kumars, Bachchans) has been a rage in Japan ever since his 1995 superhit Muthu was dubbed and released as Dancing Maharaja. They are also planning to release 30 movies on DVD in Romania with Romanian subtitles. They are also showing a 100 of their films on Myanmar television including Dabangg. Chulbul Pandey in Burmese, anyone?