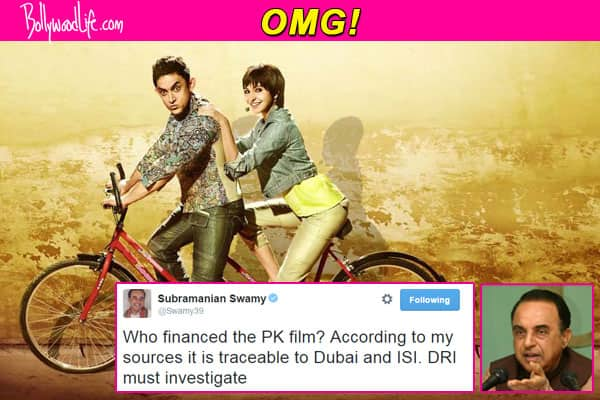 So claims former cabinet minister Subramanian Swamy. What does he have to say? Read on to find out!
Where, on one hand, Aamir Khan's PK has received a raving response by the audience owing to its unique concept and propaganda, on the other, it continues to face criticism. Why? Because PK supposedly has hurt the religious sentiments of many, following certain ideologies that have been featured in the venture.Earlier, an NGO called All India Human Rights and Social Justice Front, demanded the film to be banned, stating that it contains sequences which are bound to go against the religious beliefs of the people. Then came in Ramdev Baba, who demanded a social boycott of those involved in the film, following his belief of the Hindu Gods and Goddesses having been presented in a bad light.
Where we thought the list would end here, another one has been added to it. BJP member Subramanian Swamy, the former Union Cabinet Minister and MP put forth a tweet on his Twitter page, talking about the funds of the film. Stating that he has sources which trace the funding of the film to Dubai and the ISI ( Inter Services Intelligence) in Pakistan, Swamy wrote,"Who financed the PK film? According to my sources it is traceable to Dubai and ISI. DRI must investigate."
It isn't a rare sight to see politicians making vile statements. Where the regressive mentality of people regarding religion and spiritual beliefs is very much an appalling sight already, politicians like Mr Swamy unfortunately do not cringe or think twice before posting such tweets. His statement is being termed senseless and has stirred a controversy. Twitteratis have bashed Swamy, calling him insensitive with tweets reading," swamy's next goal is to get himself kicked of from Twitter also. He is working hard to achieve this as always and "You are the biggest wrong number ever dialed, we all will completely reject you one day like the #PK baba. @Swamy39."
What do you have to say about his tweet BollywoodLifers? Post your comments in the box below!