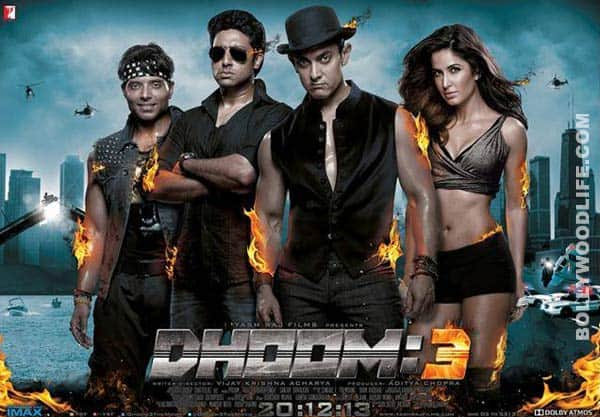 The story of Aamir-Katrina starrer has been leaked. Read on to find out…
Dhoom:3 has been creating a lot of buzz and everyone has been waiting with bated breath for the film which stars Aamir Khan, Katrina Kaif, Abhishek Bachchan and Uday Chopra to release. A lot of rumours are doing the rounds that the ticket prices of Dhoom:3 have been raised to Rs 500. Despite this, some of you would still want to catch the film, while there will be some who would think that Rs 500 is a little too much for Dhoom:3.
So this is the story for the people who belong to the latter group. Fair warning. Peeps who wish to watch Dhoom:3 in the theatres don't read ahead. If you still wish to, then don't blame us.
The story of Dhoom:3 has apparently been leaked. Yes, you heard it right! An entertainment website has revealed the plot of the film, which goes something like this – the film begins with Sahir assisting his father, played by Jackie Shroff. Sahir learns all the tricks from his father. The father (Jackie Shroff) is murdered, or either killed, due to somebody or some incident at the circus. Sahir promises to take revenge. Same old stuff, isn't it? The film then takes a leap. The adult Sahir is played by Aamir Khan. He is working in the same circus his father used to work, and has beautiful gymnast Aaliya (Katrina Kaif) for company. Sahir is out to rob all the money that's made by the owners of the circus, who according to him are possibly involved in his father's death or murder. He is successful in two attempts. Now, enters ACP Jai Dixit (Abhishek Bachchan), along with Ali (Uday Chopra). Their task is to nab the master robber!
They know the master robber is Sahir, but do not have any proof. Thus, a trap is laid out to catch him red handed. Now, begins the cat and mouse game. The prime target is to catch Sahir in action. Will Sahir be caught in the end (like John Abraham in Dhoom), or would be given a chance to start a new life (like Hrithik Roshan in Dhoom 2); what would happen in end? That's for you to find out when the film releases.
Well that's a good thing that the website has not revealed the entire plot. So if you wish to find out that what happens in the end, go to the theatres, but again if you are happy with this much, say thank you. Wink wink!