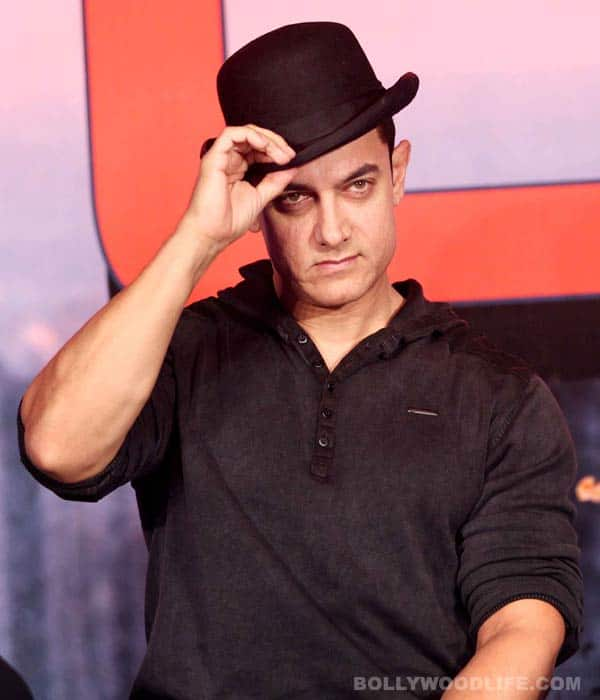 For the second time – after Fanaa – Mr Perfectionist is playing a baddie in a YRF film, but he says that in this film, co-starring Abhishek Bachchan, Katrina Kaif and Uday Chopra, directed by Vijay Krishna Acharya, his role isn't completely negative. People won't hate him, Aamir insists…
The most awaited film of the year is set to hit the theatres and Aamir Khan will be back on big screen exactly after a year but in a different avatar, as a circus acrobat in Dhoom:3. Bike racing, chasing cars and other dangerous stunts – Mr Perfectionist will be seen doing all this and much more in Yash Raj Films' latest action thriller. When we recently spoke to the versatile actor at his Bandra residence, the first thing he asked us was if it was okay if he smoked. As he lit up his cigarette, Khan said that though he had kicked truly the bad habit, he starts smoking every time his film is slated for release. But why? His films make him nervous even today, he insists. And then we directly got to the point – in Dhoom:3 is Aamir playing a double role? Was it challenging for him to play a circus acrobat? Is he expecting to create a new box office record with this one? And he started talking….
Are you playing a double role in Dhoom:3?
No, no… There are a lot of rumours floating around and one of them is that I am playing a double role. Another rumour is that the film is about time travel. Another is that Katrina Kaif is playing my mother (laughs). But I am happy that people are curious and excited about the film, but everybody will get to know what the film is about only when they watch it.
Why did you agree to do Dhoom:3?
I loved the script. And I also think it's the most challenging role that I have done in my last 25 years. I won't say anything further, but as a performer the role really challenged me and that's what attracted me to the script and the film.
There are a lot of dangerous stunts in Dhoom:3. Are any of them VFX created?
I would hope so (smiles) – technically, I don't know what the terms are, but what we have done is to enhance the stunts; we have used the best possible means available to us. So some stunts are real and some have been done by using new methods available today.
You were on medication while doing some stunts…
There is a song called Malang malang which had lot of circus work. So we had special people who came to train us for the circus part. In the training itself I realised that I was feeling giddy. And when you are on the strap and spinning or in the loop and spinning, it's even more dangerous, because you can fall very easily, especially when you are hanging upside down. That's what we were doing. I asked the people who were training us, 'How do you'll manage to do this?' They said, 'Humko bhi chakkar aata hai, but you get used to it'. So they told me to take car sickness tablets and then perform.
Did you need to deal with injuries?
We often got injuries. In fact, Katrina rehearsed very hard for her sequence and she had many bruises on her legs, coz it's tough. But luckily, none of us had major injuries. During Malang malang we were actually 40 ft high and there was nothing underneath, so we had to train with the circus artistes before we could do it. And they are very particular – they won't send you up unless they are sure you can perform.
Physically, how challenging was it for you to play the role of Sahir?
It was tough for me physically. Though I had trained hard during Ghajini, the requirement for that was slightly different. For Ghajini I had to be like a tank – the body was big, size was important and brute strength was important. So we worked towards that. In Dhoom:3, since I play a gymnast and a circus artiste, I needed a lot of flexibility in my body. I had to have a lean body with a low fat percentage. I had come down to nine percent body fat while we were shooting. It required a very strict diet and extremely strict workouts. Also, my sleep was very important. I had to sleep for eight hours every day, no matter what. And all this went on for two years.
Have you watched Dhoom and Dhoom 2?
I haven't watched Dhoom 2, but mujhe Dhoom badi pasand aayi thi. I didn't see the film when it released, but I watched it on TV along with Kiran (Rao) and I liked it.
In Dhoom and Dhoom 2 people really appreciated the villain. Did you approach the film as an antagonist or the hero?
My approach gets decided by the script. In Dhoom:3 I play Sahir and though he is the antagonist, he isn't completely negative. He is not an Amrish Puri kind of negative. He is not actually killing people. He is a guy who has a painful past and has gone through an emotional trauma because of which he does the things shown in the film.
You were the first Khan to create a Rs 200 crore record with 3 Idiots. Do you hope to do the same with Dhoom:3?
I was also the first Khan to create a Rs 100 crore record (laughs). I don't believe in numbers at all. I want my film to be a success. I want my film to win people's hearts. They should say, 'Wow, what a film!'.
But your star status does influence numbers…
Only to a certain degree, coz a film cannot run on star status. Let me put it this way – none of my films will run only on star status, but that's not the case with Salman Khan. He manages to do everything (smiles). According to me, he is the real number one. He just bulldozes all logic. I don't have that capability. For me, unless the film is good enough, I won't be able to make my mark.
How is your relationship with Yash Raj Films?
I share a very good relationship with them. I have lot of respect of Yash (Chopra) ji. He is not around us any more and the biggest thing I am going to miss is that he won't be able to watch Dhoom:3, because he was part of the planning process and he knew the script. And a few days ago I told Adi (Aditya Chopra) that one of the biggest regrets I will have is that Yashji is not here to see the film. My relationship with Aditya is also very good. I have very high regard for him as a producer, a director and a creative person.
Are you planning to make an appearance on Bigg Boss or Comedy Nights with Kapil to promote your film?
No, we are not going on these TV shows to promote the film. I think in Dhoom:3, less is more. But to achieve more we feel the path is to do less. I have nothing against TV shows, but I don't feel like going on any. I feel that TV shows are great platform, but when you're doing a film like Peepli Live – which has no big no stars in it and the budget is also not big – it makes sense to go on TV shows to promote the film. So for small films, going on large platforms is a great idea. But we don't need to do that for Dhoom:3. So jahan tak TV shows ka sawaal hai, I think big films don't need it. You can go, but it won't make any difference to your collections.