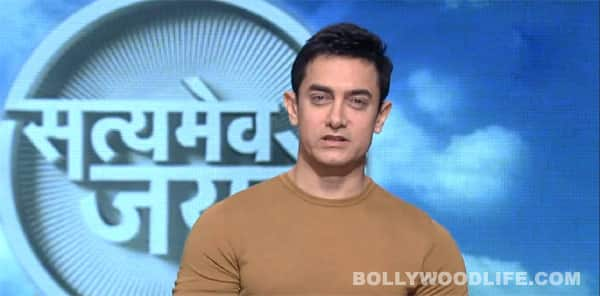 The Perfectionist actor paved the way for a 'new kind of show' on Indian television with Satyamev Jayate last year. With season 2 on the anvil, will he be able to carry on from where he left off
Aamir Khan was born on March 14, 1965. As the actor turns 48 today, he won't have any time to celebrate his birthday with his fans as he's busy shooting in Rajasthan for Rajkumar Hirani's P.K..
Last year, the Bollywood star created a storm when he made his television debut as the host of Satyamev Jayate. At a time when most filmi stars came out with celebrity chat or game shows, Aamir, the trend setter moved away from the obvious. He took a 'different' route and decided to launch a talk show that's hatke and involved the junta of the country. It had no entertainment value and had a unique time slot, but the show still managed to create waves. SJ seemed like an extension of Aamir's personality.
Satyamev Jayate brought a lot of social issues to light – marital rape, addiction, pedophilia, concerns of the specially-abled and much more. It aired on most Star channels and Doordarshan. It was an innovative thought and boy, did it click!
Every Sunday at 11 am, people would rush before the TV sets to catch the show and see what AK would discuss that day. While the actor got criticised for his emotional outbursts on the show, he was equally applauded for his efforts. For this endeavour, Khan made it to the cover page of Time magazine's Asia edition in September 2012 – the story titled "Khan's Quest".
It has been Star channel's most ambitious project till date. Seeing its popularity, Aamir announced on radio that he will soon come back with the second season of Satyamev Jayate. However, the show will not go on the floors this year, but we are eagerly waiting. Right?