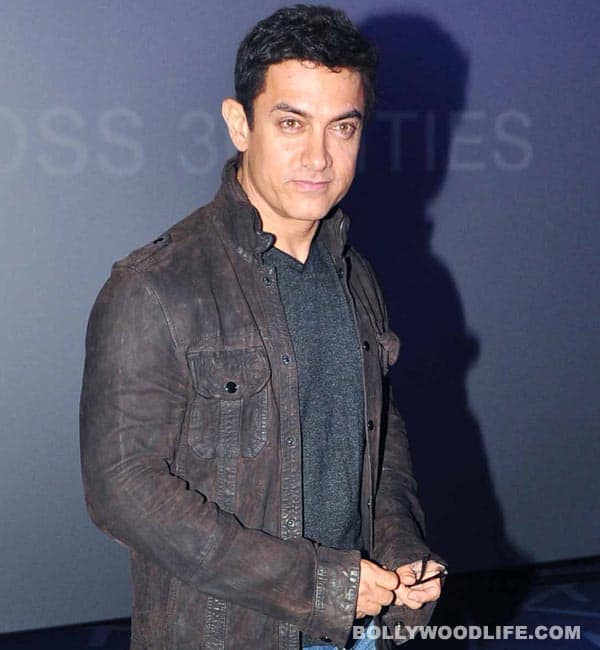 The actor's much awaited film with Rajkumar Hirani will release in December 2014
It was meant to be a nice and easy Christmas for Ranbir Kapoor, Anushka Sharma, John Abraham, Nana Patekar, Anil Kapoor and Shruti Haasan. The big-ticket release for Christmas day, 2014, was supposed to be Anurag Kashyap's Bombay Velvet, with Anees Bazmee's Welcome Back, starring John Abraham, Nana Patekar, Anil Kapoor and Shruti Haasan, providing benign competition. However, the undisputed king of Christmas, Aamir Khan whose past releases during the holiday, including Taare Zameen Par, Ghajini, 3 Idiots and Dhoom:3, has scuppered those best laid plans. Rajkumar Hirani's much-awaited P.K. starring the so-called perfectionist was due a June 6 release. That has now changed.
A terse statement from the production companies said: "Vinod Chopra Films and Rajkumar Hirani Films, in association with Disney, announce that P.K. release shall be in Christmas 2014."
Aamir Khan said on his social media accounts: "Hey guys, P.K. release date is finally locked…. this Christmas…. my lucky date!!! Jai Ho!!!"
We'll come back to the Jai Ho in a minute, but Aamir's assertion that the P.K. release date is "finally locked" is nonsense. The June 6 date was announced several months ago. In such a crowded release date scenario, producers and distributors keep a beady eye out for good dates and use pre announced date information to set their own. Aamir's decision to invade Christmas this year therefore breaches an unwritten code of date ethics. But hey, he's Aamir Khan and he can choose to release his film whenever he wants, it is a free market out there and why worry about the rest.
The reasons behind Aamir's decision to move to Christmas, beyond the obvious fact that the date has been lucky for him, are twofold. Dhoom:3 will receive its television premiere in the next couple of months, followed by the home video release. The summer will see the second season of Aamir's crocodile tear saga Satyamev Jayate, the first season of which was a huge ratings success amongst the gullible television audience who actually believed that Aamir was sincere and genuine. So, if P.K. had released on June 6 as planned, the fickle audience would have had an Aamir overdose, too much of a good thing as it were.
While the producers of Bombay Velvet and Welcome Back are now left scrambling to find a new release date, two films have stepped smartly into the yawning gap left by P.K. on June 6. Prabhu Dheva's Action Jackson, starring Ajay Devgn and Sonakshi Sinha will now clash with A.R. Murugadoss' Holiday – A Soldier Is Never Off Duty, starring Akshay Kumar and the near ubiquitous Sonakshi.
Back to Jai Ho, the copyrighted AR Rahman slogan that he has kindly let Salman Khan use as the title for his January 24 release that no one, not even Salman fans, is looking forward to, given that it looks so tired and flat. New best buddy Aamir has been tirelessly plugging Jai Ho on his social media pages, beginning with a daily countdown and even providing information about advance bookings.
Here's some Aamir poetry for your delectation:
Teri Talaash Main Hum Duur Ja Nahi Saktay
Tu Kitna Paas Hai Tujko Bata Nahi Saktay
Hamain Malom Hai Ye Zindagi Char Din Ki Hai
Magar Teray Bina Ye Char Din Bita Nahi Saktay
4 days to go!!!
Jai Ho!!
To paraphrase Gabbar Singh about Aamir and Salman's renewed friendship: "Bahut yaarana lagta hai."