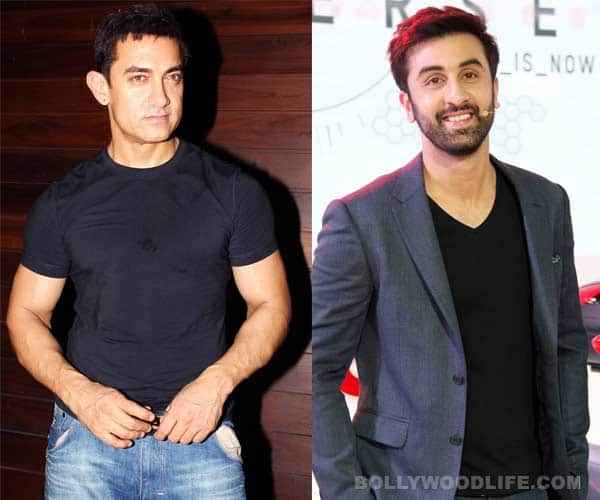 Aamir Khan's much awaited P.K. will now release on December 19, 2014
Aamir Khan, perhaps wrong-eyed by the copious amounts of glycerine he sheds during Satyamev Jayate, has blinked again. His Rajkumar Hirani magnum opus P.K. was due to release on June 6, until a terse announcement informed the world that the release date is shifted to Christmas day, with no reason assigned. That was the day that a film Ranbir Kapoor and Anushka Sharma fans cared about, Anurag Kashyap's Bombay Velvet, was due to release on that date, along with a film that nobody cares about, Welcome Back. Bombay Velvet stuck to its guns and stayed put to its Christmas date. Welcome Back shifted back to December 19.
Now comes another terse statement: "Vinod Chopra Films and Rajkumar Hirani Films, in association with Disney India, confirm that PK shall release on 19th December 2014." This means that team Welcome Back, who fondly thought that they'd gotten rid of their Christmas bedfellow, are now stuck with it again. Aamir Khan, Vinod Chopra and Rajkumar Hirani maybe big names in the industry, but this constant chopping and changing of dates in a crowded release calendar are rapidly losing them goodwill in the industry.
Trying to earn goodwill by invoking the spirit of Amitabh Bachchan is Emraan Hashmi, currently going through a dull phase in his career. His under-production film Shaatir, directed by Kunal Deshmukh who makes only Hashmi starrers, is now titled Raja Natwarlal. "Emraan, Kunal and our team were thrilled about this title from the moment we hit upon it, as it sums up his character so perfectly. Emraan Hashmi and Kunal Deshmukh together have entertained audiences with back to back hits earlier and we look forward to Raja Natwarlal to entertain our audiences with the ultimate thriller comedy." said Amrita Pandey, VP and Head, Marketing & Distribution – Studio, Disney India, the film's producers under the banner UTV Motion Pictures.
"Ever since I heard this title, I've been after UTV to get it. It etches out my character perfectly and is extremely catchy. Also, because it fits in so well with the space of the film, it will help us in promoting the film very well," says Hashmi. Deshmukh says, "It's a fantastic title and takes the film to another level. I always wanted to present Emraan in a never seen before avatar. He plays a master street con artist- the modern day Natwarlal. So the title is just apt."
We'll see whether the title works or not when the film releases on August 29. Oh and for those of you children scratching their heads over the Bachchan connection, Mr. Natwarlal is a 1979 classic starring Amitabh, featuring the immortal line, "Arre yeh jeena bhi koi jeena hai, lallu?"