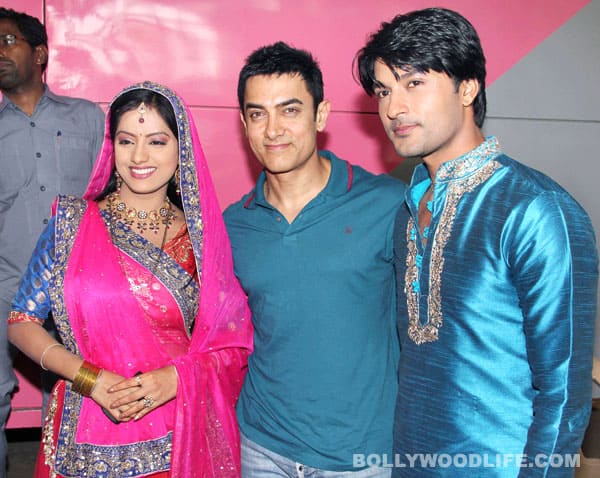 The actor will be promoting his show Satyamev Jayate on the soap
Aamir Khan is trying his best to ensure that his new show Satyamev Jayate is a success right from the start. His idea to keep the format a secret has worked and viewers' expectations are sky high. Then there are those interesting advertisements. Even Kiran Rao has helped out, by mock-complaining about the 'invasion' of her home by the show's creative team. Now Aamir is taking the help of television's most popular couple Sandhya and Suraj to garner even more publicity for his show. He has shot a cameo appearance in Diya Aur Baati Hum as a promotional venture for Satyamev Jayate.
DABH is one of the top-ranked shows currently on air with its lead pair Deepika Singh (Sandhya) and Anas Rashid (Suraj) enjoying a huge fan following. With Satyamev Jayate airing on eight Star channels, it was but natural – with the way things work in the TV industry nowadays – that Aamir would appear on one of their soaps to promote his new venture. Aamir claimed to a national daily that he went on DABH not due to its popularity, but because this is one show he is actually familiar with. His mother and Kiran watch it every day and he too has caught parts of it. Why does that make us only more incredulous?
Aamir also told the daily that he chose the Sunday 11 am slot for Satyamev Jayate as he did not want to compete with other shows. Guess he didn't realise at that time that other channels, such as Colors, would not have the same viewpoint and actually start a new reality show All Is Well With Dr Ahluwalia in a vain attempt to compete with him. If they want to commit hara-kiri, what can we say?